What's new for the 2023 camping season
The long-awaited start of the season is now just around the corner, and our campsite will once again come alive on 21 April. Siófok, and especially the Gold Coast, have always been popular holiday destinations, as they offer lots to discover all year round, along with plenty of options for some rest and relaxation. Between the spring and the autumn, you can also enjoy water-based adventures around Lake Balaton, so Aranypart Camping is definitely worth visiting even in the off-season. We have loads of new things on offer this year, promising guests an even more fantastic holiday than ever before.
For those who love active relaxation
Are you staying at the campsite? Head over to the Wakeboard – Bamboo Island!
All guests at Aranypart Camping who are wearing their wristbands can enjoy a buy-one-get-one-free offer on wakeboard services at Bamboo Island. Wakeboard – Bamboo Island is situated around 80 metres from the beach. You should definitely try to make the most of this offer and enjoy the floating oasis with its very own snack bar, loungers and parasols so that you can relax in style while also having a whole host of water sports at your fingertips.
The offering includes wakeboards, Landlock and wakeskates, paired and single skis, but you can even learn to surf if that's what you feel like. The course has professional trainers who will be on hand to help with anything. Don't worry if you are a beginner and don't have your own kit yet: you will be able to hire everything you'll need.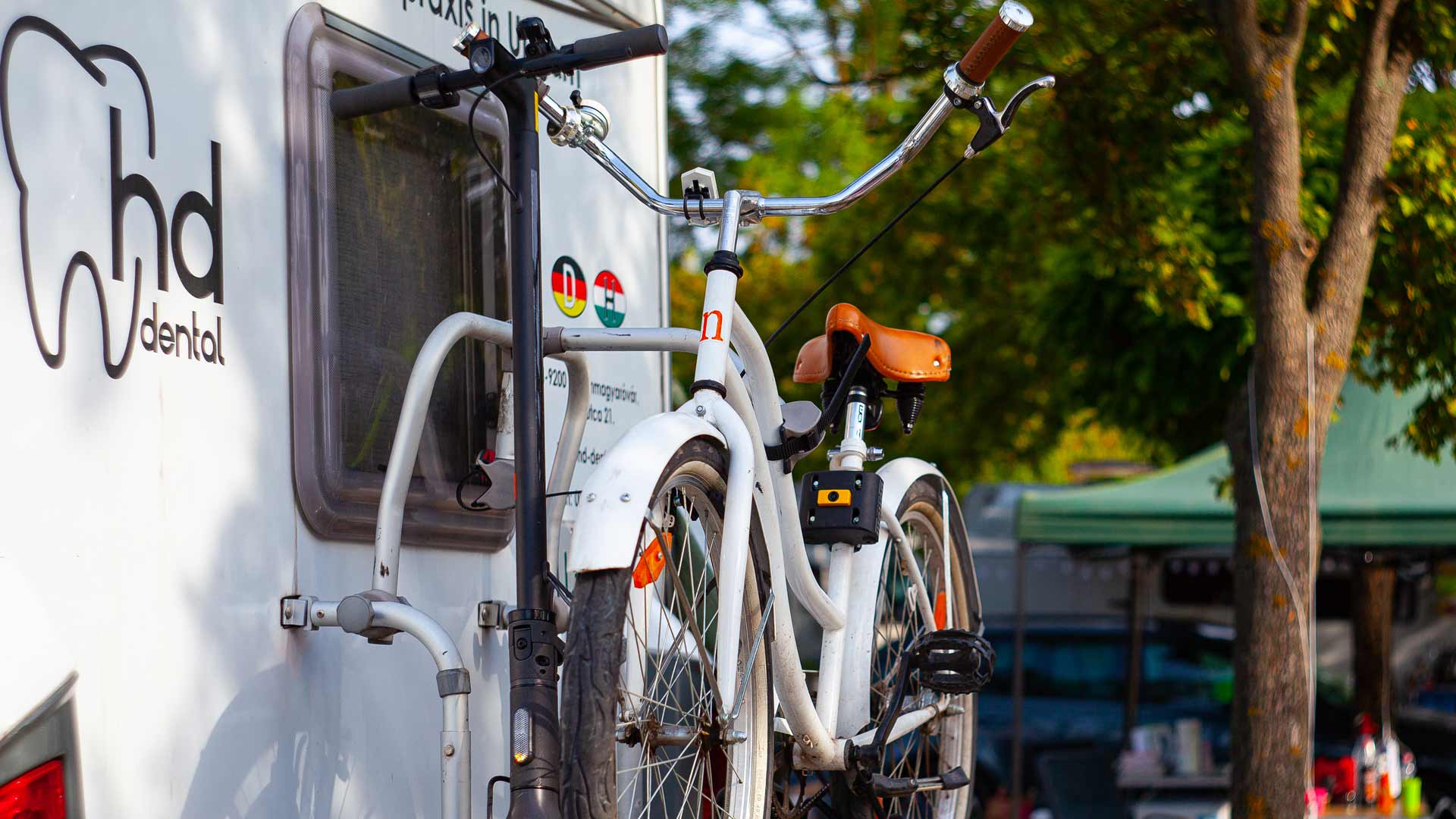 Explore by bike
Bicycle hire
The area surrounding Siófok is full of attractions, but if you'd prefer to stay close to the lake and discover where the cycle paths will take you, bicycle hire is definitely the way to go. You can hire a bike at the campsite right from the start of the season. Bicycles are your best option to visit nearby attractions or to go on short trips.
Wellness experiences right at the campsite
Massage
These days, no holiday is complete without a bit of pampering for both body and soul. Aranypart Camping has all the most popular wellness services right on your doorstep.
A refreshing massage will not only relax your muscles but is also guaranteed to lift your mood. Call +36 30 691 5318 to make an appointment.
Heated pool
Thanks to our heated pool, you won't be missing out on the full beachside experience even when Lake Balaton is a little too cool for comfort. Adults will love a bit of bathing, but from 1 July the pool also hosts water-based animation activities for children.
What's new at the campsite
The campsite gets a makeover before the season starts every year, but this time we really pulled out all the stops to offer an even larger, more comfortable and – thanks to the new trees – shadier area for you to spend a relaxing holiday in. Starting from the 2023 season, you can enjoy a new area for tents that spans 1,500 square metres, and there are 60 newly planted trees, too. Thanks to the expansion, you can set up your tent in an even roomier and more comfortable space now. On top of all that, the interiors of the Rosa and Carmen B cabins have been redecorated.
A new fence has been installed along the boundary of the campsite towards Lake Balaton, and the look of the restaurant has been updated. The shop and the animation building have also received a spectacular makeover.
No camping holiday would be complete without some outdoors cooking. By popular demand, we have updated the existing fire pits and installed new ones that you can hang a pot over.
This season also brings a new kind of outdoor leisure activity to the campsite: a giant chess set is the latest addition to our long list of games facilities.
Cheaper holidays off-season
Mid-spring is just around the corner. The sun is out, waves are appearing on the surface of Lake Balaton, and it increasingly obvious the time is just right for a quick break. All you have to do is book your accommodation at Aranypart Camping, enjoy the great weather and try all the new additions in addition to our tried-and-tested services. Booking online is quick and easy, and you can use any major debit or credit card to pay. Make the most of the off-season discount and have a cheaper holiday as soon as April!