Camping is both an adventure and a way to relax in comfort. We designed the list of our campsite services to make sure you won't have to compromise on comfort, and you will also have the opportunity to explore the neighbouring area. We endeavour to add new services to our offer each year so that you can enjoy maximum comfort while staying with us.
Click here for a list of services available at the campsite »
Flat reservation fee
For those staying in a mobile house or caravan
Are you returning guests? Do you have a favourite caravan plot or mobile house? You can pay a flat fee to reserve the plot or mobile house of your choice, subject to availability, by selecting extra campsite services when making your booking. If you want to reserve caravan pitches next to each other, or mobile homes, in that case you must pay the fixed reservation fee for each house/pitches. Make sure to book your accommodation early to avoid disappointment.
Use the online booking platform to simply and conveniently pay the flat reservation fee at the same time you pay for your accommodation.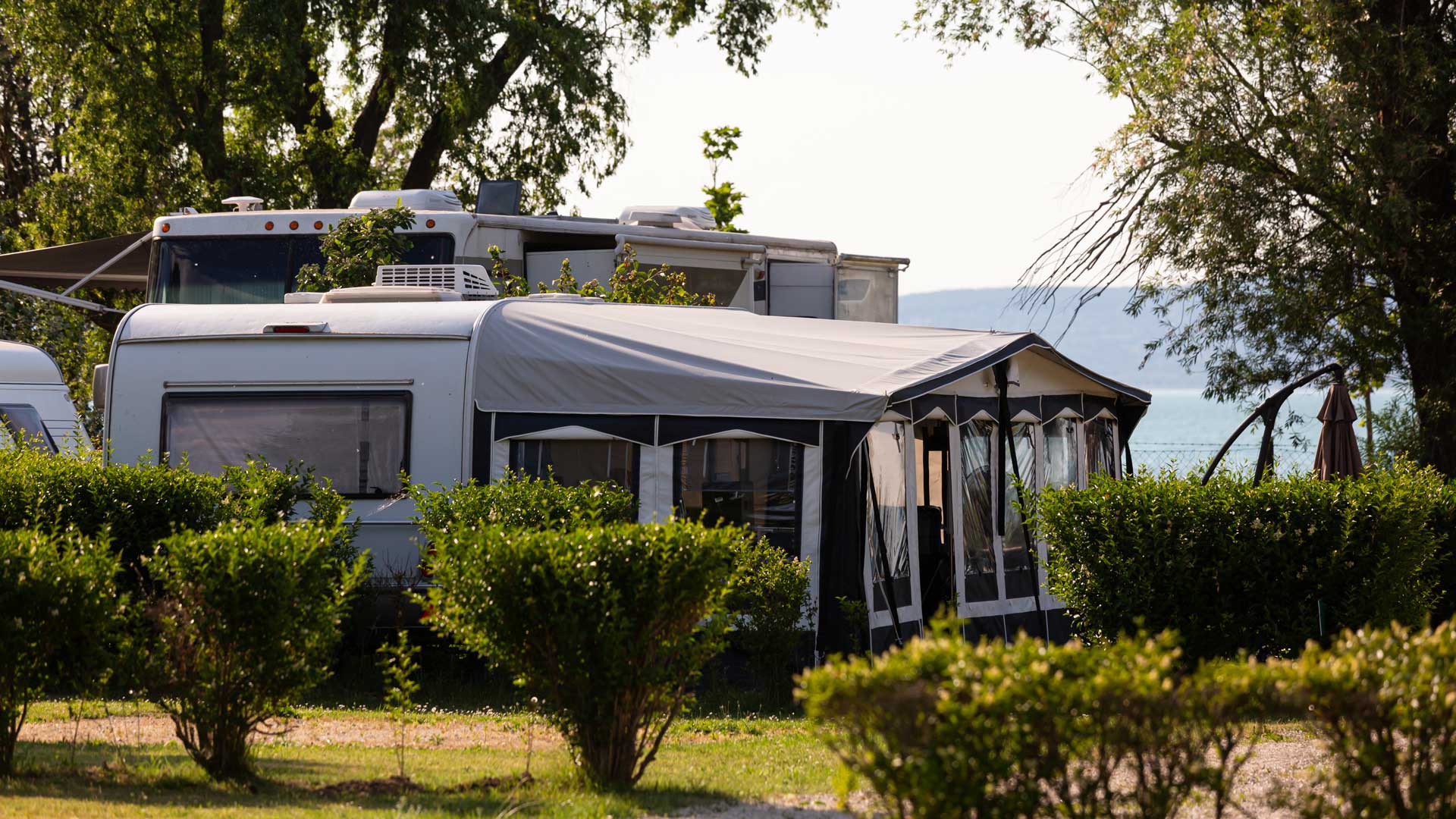 'Comfort' caravan plot – Aranypart Camping, Balaton, Siófok
Are you staying in a caravan?
The price of a caravan plot includes space for a 1 motorhome + 2 people or 1 caravan and the car that tows it + 2 people or 1 tent and one car + 2 people and 10 amp mains outlet. But what if you want to pitch an additional tent on the same plot or you arrived in more than one cars and don't want to leave one of them outside of the campsite? Not to worry, we have you covered. Ask at the reception for the details.
All you need to be comfortable
We offer the whole range of campsite services you need to have a relaxing and comfortable break. From washing machine tokens to outdoor cooking pots, we have thought of everything.
You can even entertain visitors by purchasing a day ticket, and you can also bring your pets on holiday. If you don't feel like cleaning while enjoying a break, make use of our extra cleaning service.
Click here for a list of services available at the campsite »
Cooking and eating out
The campsite has a restaurant and several snack bars, which offer a wide range of food and drinks. If you decide to cook for yourself, the campsite has everything you need to feel at home away from home. You can hire a fridge compartment or, if you are staying in a caravan, even a whole fridge. There are shared kitchen facilities as well as washing machines and dryers, and sinks for washing up. You don't even need to bring your own chairs because you can hire them.
Free baby kit
We do our best to help families travelling with a baby. We provide the essentials that would otherwise take up a lot of space in your car, such as a cot, a baby bath or a high chair so that the youngest-holiday-makers can also stay in comfort. All of these items are provided at no extra cost.
Laundry day?
You can use our washer-dryers or make use of our laundry service to make your stay even more hassle-free.
Going on a day trip but didn't bring a bike?
The area around Siófok and Lake Balaton is stunning. The eastern side of the lake is an excellent day trip destination at just a couple kilometres away from Aranypart Camping. For example, there are several lookout towers along the eastern shore of Lake Balaton.
Click here for more information » 
From this angle, the Balaton truly looks like a sea, because you can't see all the way to the western shore. The endless views will take your breath away.
If you want to go for a bicycle ride to explore the neighbouring area, you can. We have thought of everything. You can even hire a bicycle at the reception. After all, holidays are not just about swimming but also about going on adventures.
Have to work on your holiday?
Have you got urgent work or has something else come up? Unfortunately, sometimes you have to do a bit of work even while on holiday. But your mobile data allowance has run out, and you didn't bring a printer… Not to worry! There is free Wi-Fi across the campsite, and you can use our photocopying and printing services at the reception.
All campsite service are available at the reception
The easiest way to use the campsite services is to ask our colleagues at the reception. Card payments are also accepted.
Alphabetised list of available services:
Bicycle hire – adults
Bicycle hire daily charge – children
Bicycle hire hourly charge – adults
Bicycle hire hourly charge – children
Cleaning after pets
Cooking pot and stand hire
Cooler hire
Daily charge for pets
Daytime ticket – adults
Daytime ticket – children
Dryer token
Extra cleaning
Extra laundry
Firewood 10 kg
Flat booking fee
Fridge hire
Key or lock replacement
Parking
Plastic chair hire
Scanning, copying, printing
Towel set hire
Washing machine token
Wristband replacement