Siófok is among the most popular holiday destinations around Lake Balaton. The town offers a range of entertainment and sporting options, and it is also excellent for families that travel with children because it has countless activities and venues that young holiday-makers can enjoy, too. Siófok is also well known for its beach, which is often referred to as the Gold Coast, and for good reason. The public has access to over 4 km of beach, some of which is sandy. The water is almost always of outstanding quality, and there are plenty of watercraft rental shops, lakeside restaurants and various exciting services on offer. The options are similarly varied when it comes to accommodation: you have your choice of apartments, hotels, luxury hotels and villas.
We want to introduce you to an option that represents the premium standard of accommodation in Siófok while also being home-like and reminiscent of seaside holiday resorts. This and more are Aranypart Camping.
Accommodation in Siófok at a campsite?
It is perfectly possible to enjoy comfort while staying at a campsite. We offer four types of accommodation on our expansive green grounds: you can stay in a tent or in a caravan, of course, but you also have a choice of mobile houses and villas.
Tent pitches
Like every other campsite, we have a number of tent pitches, and these are the cheapest option when it comes to accommodation in Siófok. You can set up your tent on the large, grassy area of the campsite, which is dotted with trees, subject to availability of free pitches. You can book a pitch online. We really care about cleanliness, so you will always be able to enjoy the time you spend with us in a well-kept and pretty environment.
Caravan plots
Caravans are no longer the privilege of foreigners. You can even rent a caravan for your holiday. It is just like paying for a room because caravans are typically rented on a daily basis. If you choose this exciting option, you will be able to park the caravan on one of Aranypart Camping's roomy plots, set up your tent and folding tables, then start enjoying our premium services such as access to mains water and wastewater connection.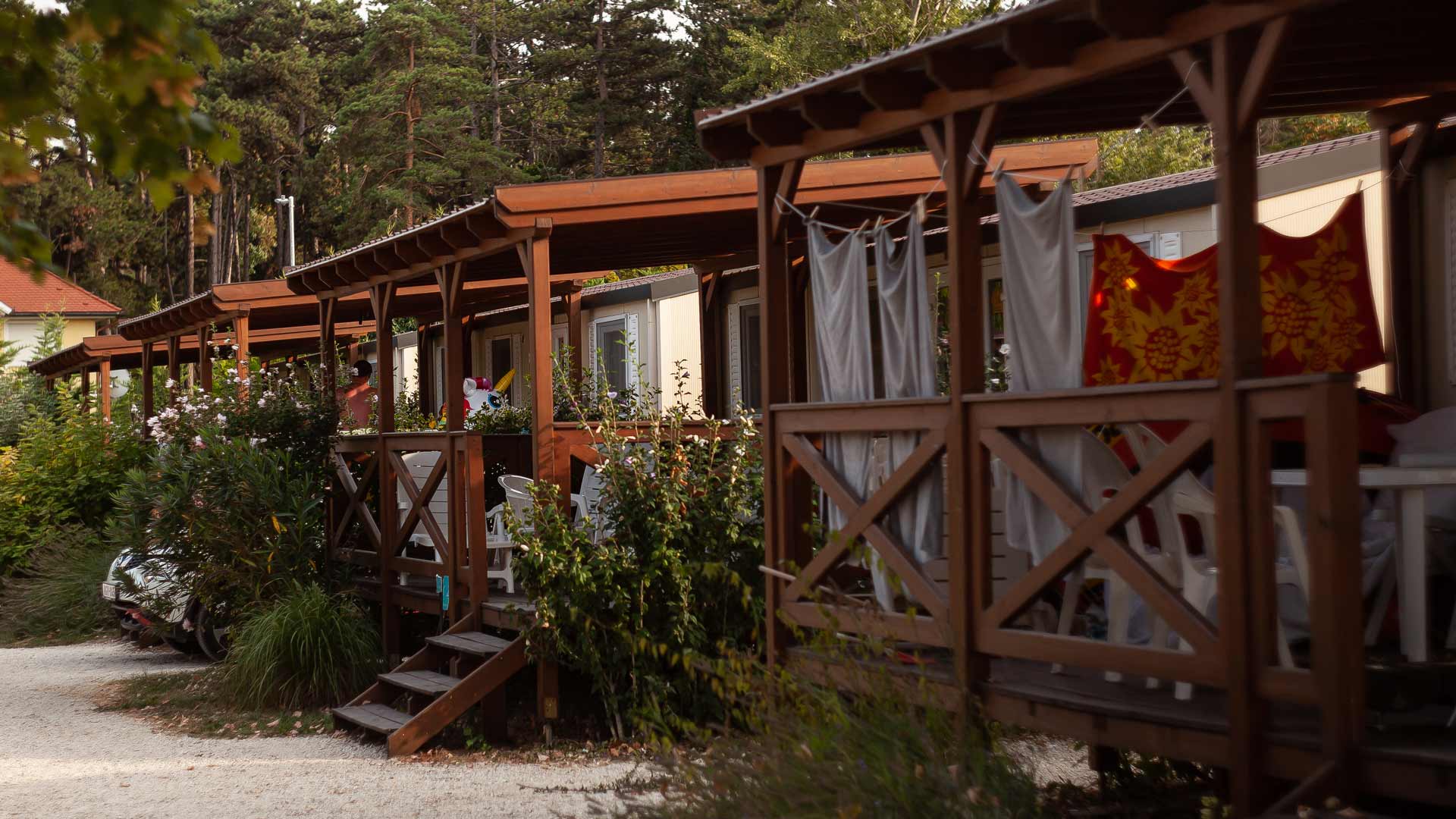 Mobile houses are our most comfortable type of accommodation in Siófok
Mobile houses provide even more comfort, and can easily accommodate a large group of friends or a big family. Our mobile houses are fully equipped, have several rooms, a sofa bed and a kitchen, so you won't be wanting for anything even during an extended stay. The campsite is open from the spring to the autumn, so the houses can also be heated when it gets cold. The patio in front of each house offers amazing views of Lake Balaton, and is great for pleasant chats with your family or friends.
Villas
Staying in a villa guarantees you will have a great time. Carmen villas are completely refurbished, furnished and equipped two-bedroom apartments that also boast a lounge and a corner sofa bed. Naturally, they also have a dining space and a kitchen as well as a semi-covered patio with garden furniture. They are also air-conditioned and equipped with fridges and everything you will need for cooking.
Who should choose Aranypart Camping?
Everyone who loves Siófok, and everyone else who enjoys the campsite atmosphere, fresh air, nature, building a campfire, outdoor games and being close to Lake Balaton. It is especially recommended for families because the children are guaranteed to have a great time and loads of fun at the campsite. Our on-site restaurants and snack bars will help parents sort out delicious food easily every day. Aranypart Camping is also ideal for young holiday-makers looking for a relaxing time because it offers not only that inimitable campsite feeling but also the lake right on your doorstep and a range of wellness services that are guaranteed to make your holiday unforgettable.
Click here to book your accommodation »
Things to do in Siófok
Most holiday-makers today pick accommodation that has a range of options for activities nearby so that the day trip, holiday or weekend getaway they have planned can be even more action-packed and fun. Lake Balaton is the ideal destination in this regard because it has something for every interest and taste. Cultural events and concerts are mostly scheduled for the summer, but those looking for a cycling holiday, active relaxation, water sports or a boating experience will definitely find something they love from the spring into the autumn. Don't forget to take in the natural wonders and taste all the delicious food and drinks you will find here because these, too, are essential for a holiday that will leave you feeling wholly replenished.