Holidays with young children – family-friendly accommodation
Finding the best family-friendly accommodation for a holiday is no easy task for any parent. There are many things to consider to ensure the children are safe and comfortable and the parents can also relax and enjoy a well-earned rest.
Ideally, the children would sleep in an environment that is quite similar to home, and there should also be closed playgrounds and other entertainment options that are suitable for even the youngest holiday-makers. Aranypart Camping offers truly family-friendly services. Read on to find out more.
Comfort for the whole family
The campsite has a selection of cabins and mobile houses to choose from, and can accommodate small and large families alike. The cabins and mobile houses can sleep 6 people, and each has a living room and two bedrooms. The bedrooms have both double and single beds, and the living room has a sofa bed to provide extra sleeping capacity. There is plenty of room, so there is no reason to leave the grandparents behind.
Stay comfortable when travelling with a baby – ask for our baby kit

Would you like to take your baby on holiday but you are worried about the amount of equipment you will have to bring with you? Aranypart Camping has thought of everything, and can help you leave some of the baby care essentials behind. Ask for our free baby kit, which contains a cot and bedding, a highchair and a baby bath.
Things to see and do in Siófok
Siófok is the heart of Lake Balaton, and offers countless events and activities. The harbour is the starting point for the Barbarossa Pirate Ship and the Upside Down House, both of which are firm favourites among children.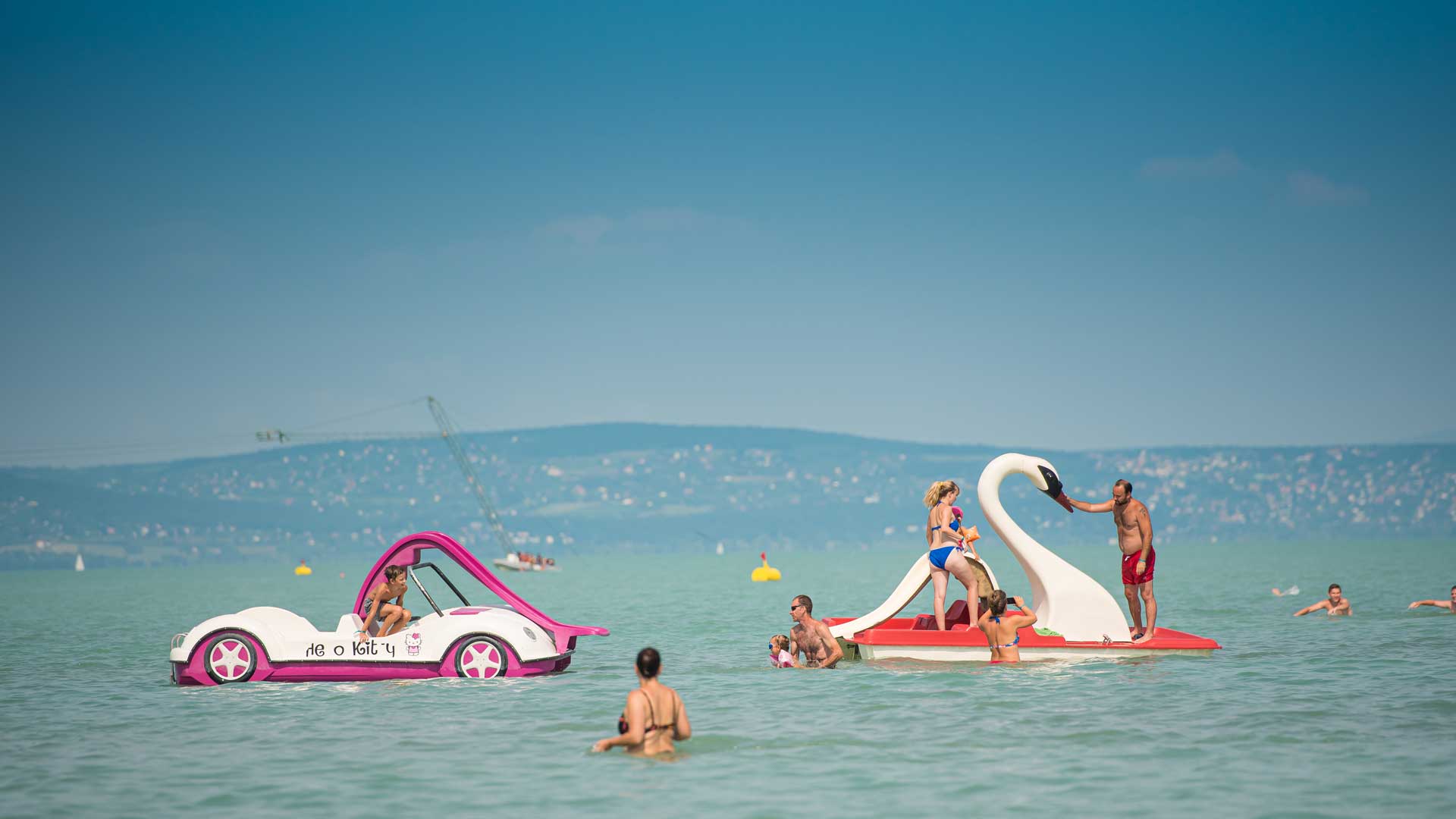 To cook or not to cook, that is the question
Some enjoy cooking on holiday, others hate it even on a weekday, and cherish the opportunity to stay out of the kitchen. All our houses and the shared kitchen are very well equipped, but if you'd rather not cook, you certainly don't have to because there are a number of snack bars and restaurants at the campsite. If you are happy to let someone else sort out lunch for the whole family, check out the menu of the large restaurant and the three snack bars that are on the premises.
If you want to cook…
The kitchens of the cabins and mobile houses are equipped with everything you may need:  a hob, a microwave oven, a 230-litre fridge with a freezer compartment, cutlery and cooking utensils. The campsite also has a grocery store, so picking up all the ingredients you need could not be simpler.
We have also thought of those who choose to stay in a tent or a caravan. The campsite has shared kitchen facilities, equipped with hobs and microwaves. You can also rent a fridge compartment, meaning only you will have access to a particular lockable drawer in the shared fridge.
To make life easier and save having to move stuff around so much, why not rent a small fridge at the reception, and install it right next to your tent or caravan.
If you'd prefer not to cook…
The First Kitchen Restaurant is the largest restaurant at Aranypart Camping It is situated in one of the most picturesque spots of the campsite, surrounded by trees and extensive green space. It can host up to 250 guests, and has open and covered terraces, as well. The campsite's restaurant, where you can choose from a wide selection of the best food. The guests are fans of Hungarian dishes, not only because of their taste, but also because of the size of the portions. Anyone who has lunch or dinner here will certainly not leave with a rumbling stomach. We recommend the bowls of abundance to the attention of people with a good appetite, from which even children will have plenty to eat. Children will surely find snacks for their teeth.
True to its name, Retró Grill Bar has almost everything you need for an authentic Lake Balaton experience: from home-made hamburgers to hot dogs and a selection of lángos. All the street food is produced to the highest standards, so do pay them a visit if you are looking for high quality and authentic summer flavours.
There is something for the parents as well, of course. Aranypart Terasz and Egyálom Terasz offer stunning views of Lake Balaton to enjoy while sipping a cup of coffee or a cocktail.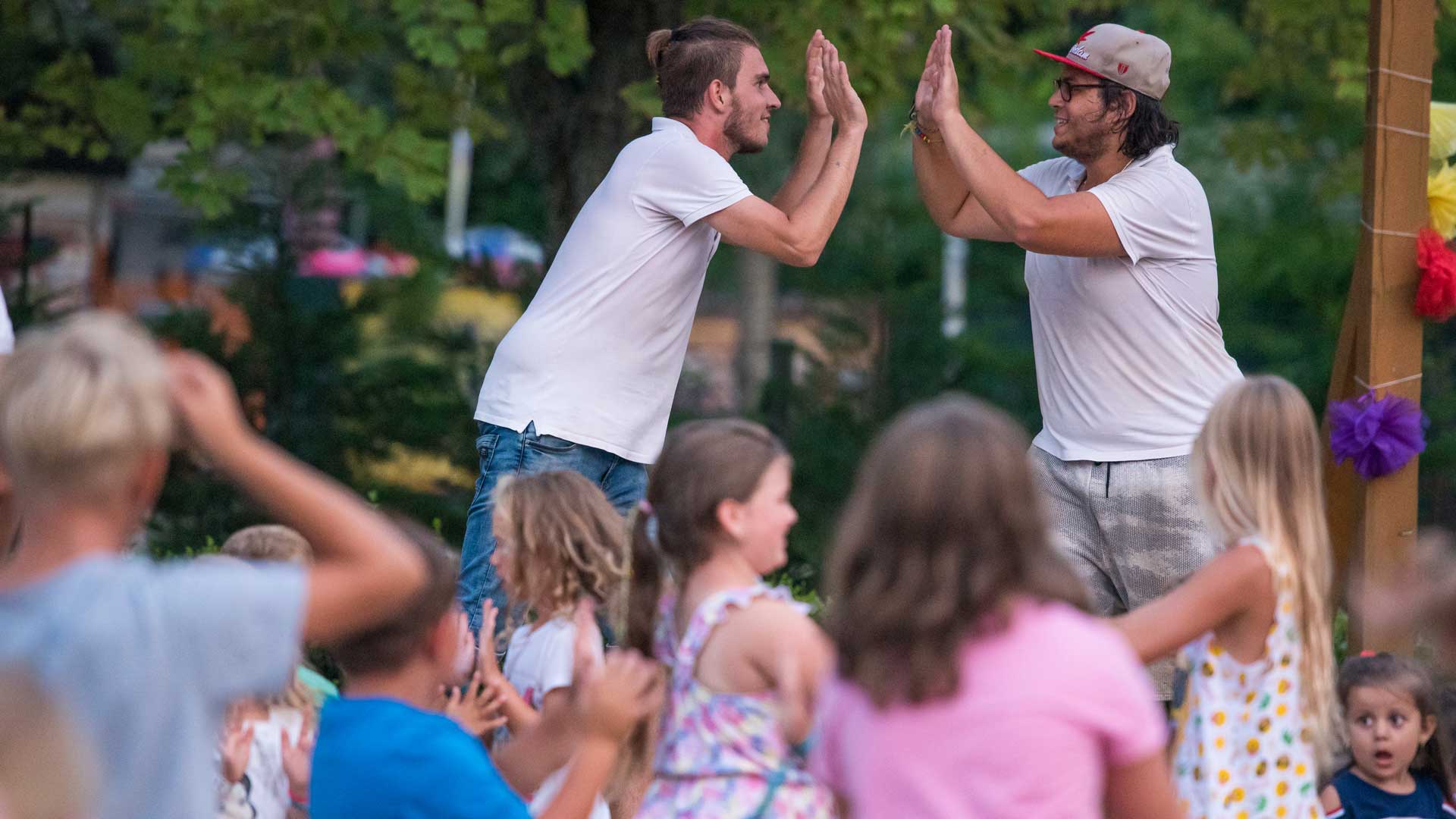 Entertainment and animation
The whole family will have a great time at a family-friendly accommodation
Small children would enjoy doing nothing but building sandcastles and splashing around in the water all day, but we also wanted to make sure there is plenty of fun to be had at the campsite, too. Whenever swimming in Lake Balaton in not an option, enjoy the heated experience pool at the campsite, or try the completely refurbished playground and the mini golf course.
Animation: fun for the children, rest for the parents
We offer a range of animation activities over the summer season. The Animacik team will provide something fun to do for all each age groups. The animators are expert communicators, and they organise various fun games, competitions, obstacle course races, treasure hunts and other group activities.
The campsite is not only family friendly but also dog friendly
The campsite is dog-friendly accommodation, so if you want to bring your furry friend with you, they will be welcome for an extra fee.
Debit Card
Debit Cards are accepted almost everywhere at the campsite. You can use them to pay for accommodation, food and other services.
Click here to make an inquiry, and we will reply within 24 hours »