At the camping site
All in one place that you may need during your vacation
The First Kitchen
The first one this time!
breakfast, soup, main course, salad, dessert…
More info
The campsite's restaurant, where you can choose from a wide selection of the best food. The guests are fans of Hungarian dishes, not only because of their taste, but also because of the size of the portions. Anyone who has lunch or dinner here will certainly not leave with a rumbling stomach. We recommend the bowls of abundance to the attention of people with a good appetite, from which even children will have plenty to eat. Children will surely find snacks for their teeth.
They can serve several types of breakfast, which is useful if you don't want to spend your vacation in the kitchen. They are also happy to serve breakfast to groups, but you can also request half or full board.
Email: wilhelm.bklub@gmail.com
Phone: +36 30 423-4030
Facebook
Retro Grill Büfé
Type of offer:
traditional beach snack bar.
More info
The Retro Grill Büfé is located directly between Lake Balaton and the holiday homes.
It offers everything you need for a real summer day. Homemade hamburgers, hotdogs and hungarian lángos.
Retro has already closed its doors for this season, but don't be sad, you can enjoy the authentic summer flavors again next year.
Egyálom Corner
Type of offer:
restaurant service, homemade flavors
More info
The Egyálom Corner awaits you with a beautiful Balaton panorama: light meals, musical evenings, a wonderful view.
More info
Egyálom TERASZ is not just a coffee bar, but a real place to recover.
In the morning, we are waiting for you with a fine sortiment of coffee to start the day, during the day there are cold drinks to refresh your body and soul, in the evening you can relax with Balaton wines and cocktails.
Regularly available skill development and logic games for children. In the evening, thematic terrace quiz, film club with the creators, lounge DJ, live acoustic music.
A dream TERRACE. Rest.Just.For.You.
More info
To be honest, nothing can be compared to the feeling of getting up late and then having a hearty breakfast. We think the same way. Luckily, the ABC Shop provides you with everything for a nice summer breakfast.
If you have forgotten something, it is not a problem either: You can buy everything here.
Opening hours:
Monday-Sunday from 8:00 a.m. to 12:00 
Animation at the campsite
We welcome our dear guests with sensational, unique animation programs between 2 July and 26 August. Due to the success of the Animacik animation team, they will provide activities for campsite guests every day.
All ages will find something to entertain them thanks to our animators with great communication skills.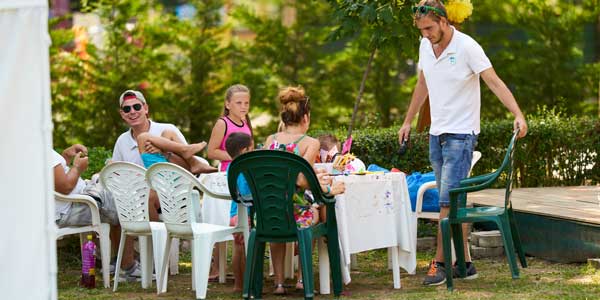 Logic tables, board game centre
You can find everything here for a cheerful game for children and adults: puzzles, card games, memory games, various board games and logic games.
Kézműves Sátor
Különleges, igényes kézművességek, melyek minden napra más meglepetést tartogatnak. A csatolt listából kerülnek kiválasztásra.
Playful, sporty animation
The greatest experience is when family and friends join together to see who's best. Playfully, of course. With games of skill and sport, assault courses, challenges, sport events, treasure hunts, fox hunts and familiar games. Everybody is welcome.
There will be detailed information every day at the Animation Beach message board.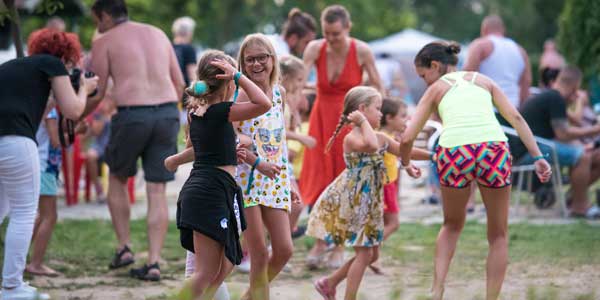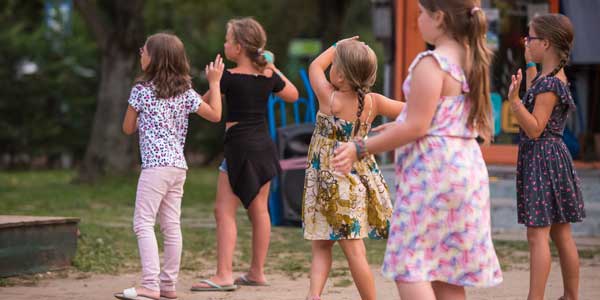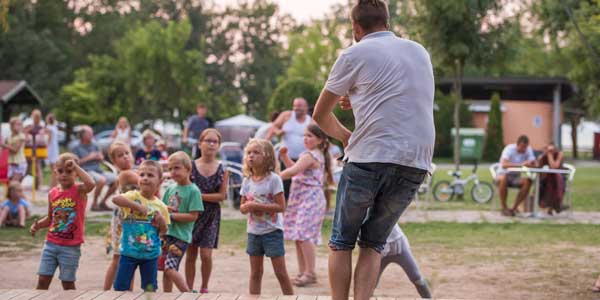 Animation Beach Party every night: 7pm – 8pm
The most popular event, not to be missed by anyone; the Animation Beach Party: dancing, singing and music every night!