Relaxation and culinary experiences on the Gold Coast
At Aranypart Camping, each meal is an enjoyable experience, thanks to the excellent restaurant, other catering establishments and genuine culinary experiences you can enjoy here.
A fun trip to Siófok has loads of activities on offer for holiday-makers. After a busy day, there's nothing quite like winding down at your accommodation and enjoying a light lunch or a delicious dinner. The best way to start a day of adventure is to enjoy a filling breakfast. You can pick up all the ingredients you need at the grocery shop right on the premises. When you're staying at our campsite, everything you need is right at your fingertips, making life all the more convenient.
Our campsite restaurant is called The First Kitchen, and it offers excellent dishes that will suit even the most refined palates. Or you can pop into the beachside bistro and enjoy its unique atmosphere. Whether you're looking for a classic beachside snack bar, a café or a waterside bar, you will find it here. We also have a grocery store, so you won't even have to leave the campsite to do your food shopping.
Read on to learn more about the full culinary offer available at Aranypart Camping. Get a taste of the best dishes of this summer, right by Lake Balaton.
The First Kitchen – Our campsite restaurant
The First Kitchen is well deserving of its name: it has a wide range of Hungarian dishes on its menu, which make its offer truly unbeatable.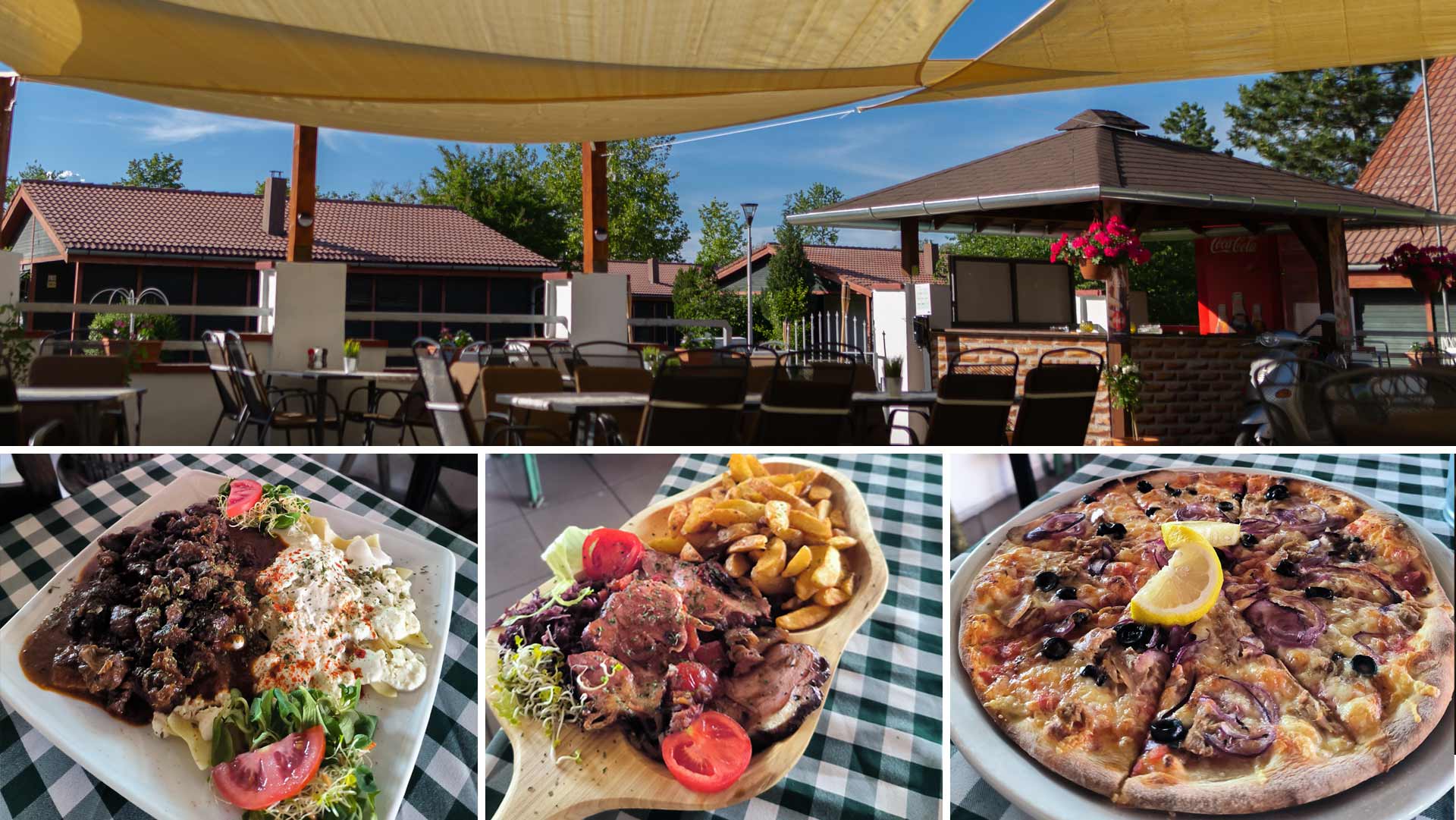 This excellent restaurant has a range of varied breakfast offers, soups, main courses, salads and desserts. Its generous portions ensure each meal is a memorable experience and a reason to return again. If you are looking for something filling, you can pick one of the sharing platters, which have all kinds of delicacies heaped on them and are enough to sate a small family. The restaurant also caters to the preferences and needs of children, so it is the ideal choice if you are accompanied by young holiday-makers. The menu has every child's  all-time favourites. Make sure to visit and experience yourself that when it comes to flavour, The First Kitchen comes first.
Full or half board
Are you looking for full board while on holiday? The First Kitchen restaurant offers full or half board options, so you can sort out all your meals at a stroke and save yourself the pain of having to plan each one separately. The restaurant can also cater for groups, so whether you are visiting Aranypart Camping for corporate training, team building or a school trip, the whole gang can sit and enjoy their meals together.
For more information, contact the restaurant by e-mail at wilhelm.bklub@gmail.com or call +36 30 423-4030.
Egyálom Corner
Egyálom Corner offers a genuine Mediterranean bistro atmosphere for each meal. It is the ideal place if you are looking for a light summer dish, a glass of excellent wine or just a great ambience to enjoy dinner. A true holiday experience is guaranteed by fantastic views of Lake Balaton and live music on selected evenings. Here, you can enjoy great flavours and the finest drinks in a great atmosphere.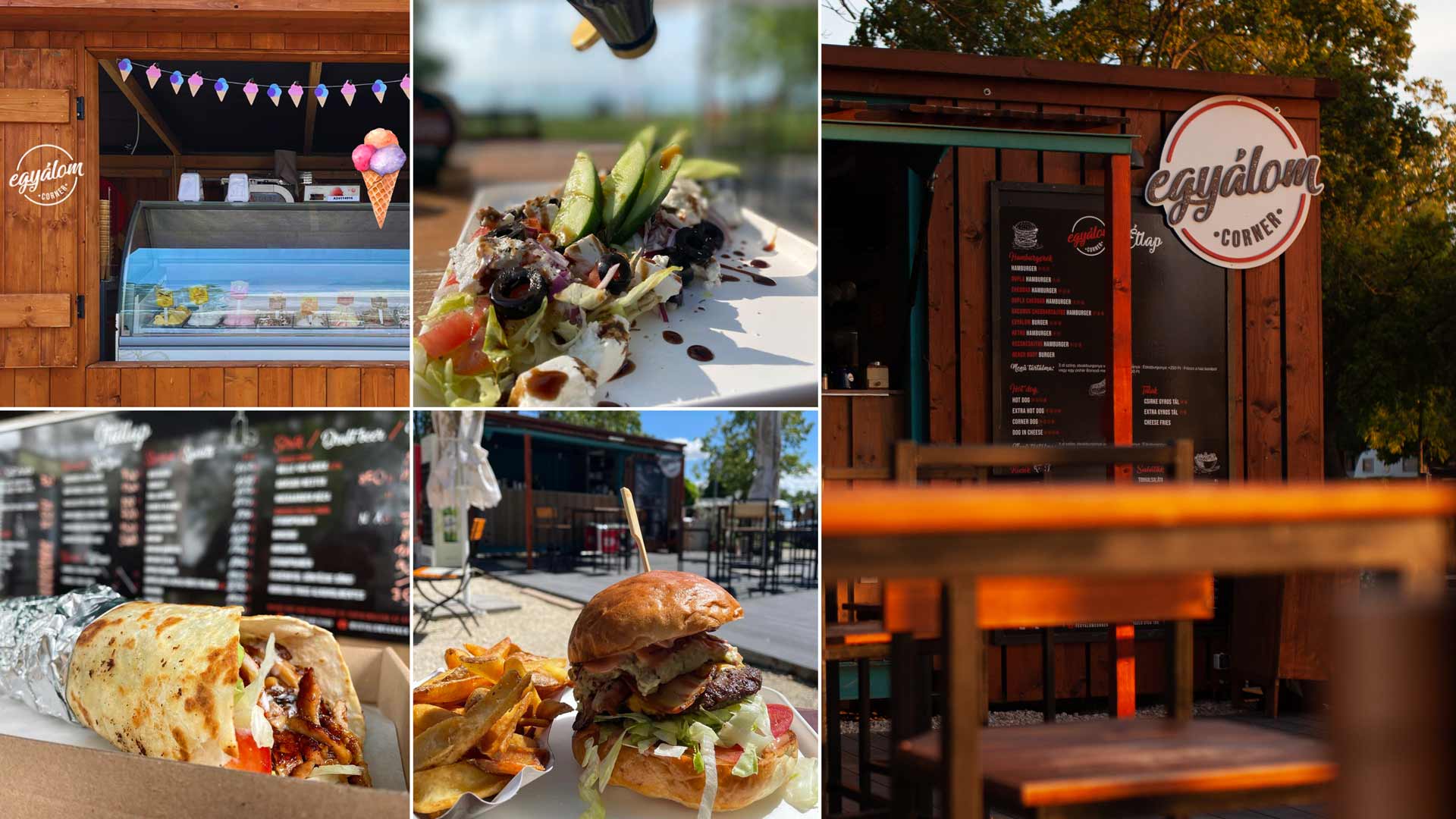 Egyálom Terrace – Bar & Café
What could possibly beat the experience of sipping a nice cup of coffee or a silky, foamy cappuccino lazily while enjoying the fantastic lights of the morning? Egyálom Terrace is situated right by the water, and offers just this sort of idyllic moments. It is definitely not your typical café and bar in a humdrum location. Thanks to its range of excellent drinks, fine Lake Balaton wines and eye-catching cocktails, it is the ideal place to relax.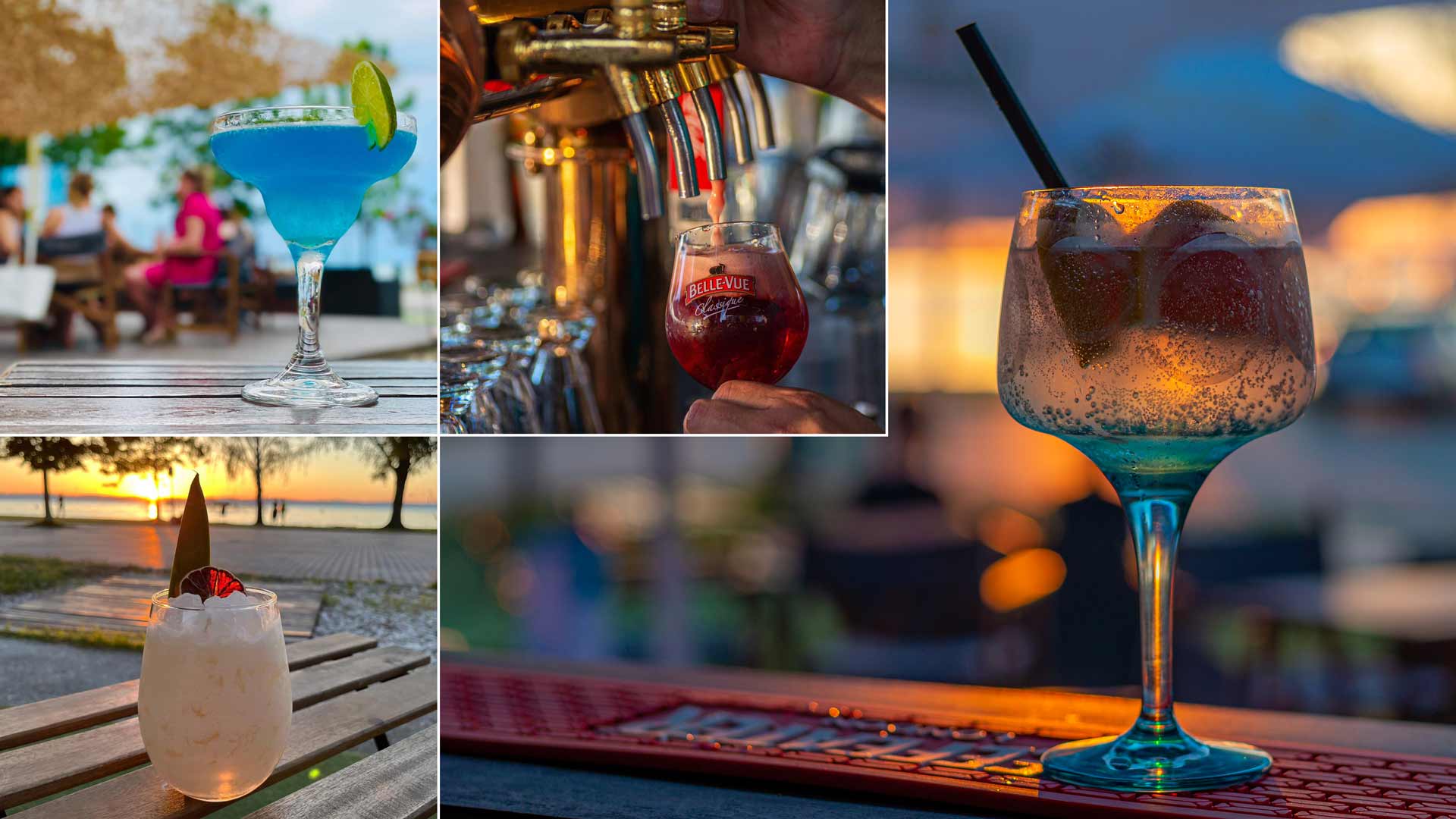 Egyálom Terrace is the ideal choice for those looking to rest and relax. It offers light evening entertainment and children will enjoy the playful developmental activities and puzzles. Visit the Terrace in the evening for themed quizzes, film club sessions and live acoustic music.
Retro Grill Snack Bar
No holiday by Lake Balaton would be complete without getting a taste of the classics from a genuine beachside snack bar menu. Enjoy an artisanal burger, the perfect lángos or one of your other favourites by the lake this summer.  Retro Grill Snack Bar is situated among the wooden cabins, right on the shore of Lake Balaton.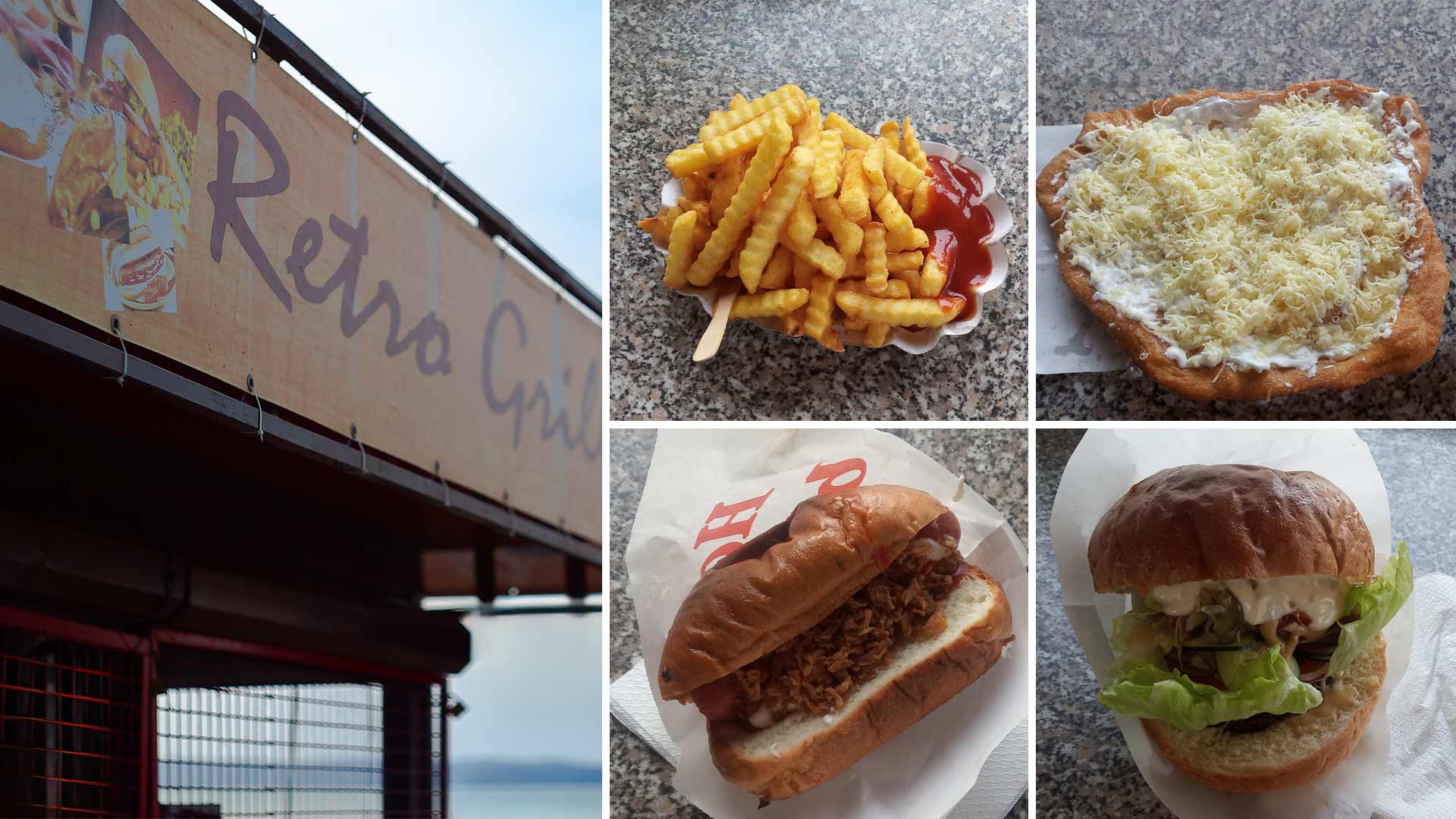 Those who like to spend the whole day on the beach or just want a quick but delicious bite to tide them over should definitely check out Retro Grill Snack Bar. They are number one in hospitality, and prioritise quality above all else.
Grocery shop
A perfect little shop at the campsite
Aranypart Camping is also home to a fully stocked grocery shop, so if you want to pick up ingredients for a lakeside picnic or enjoy a filling breakfast without going to the restaurant, you can do so without even leaving the campsite.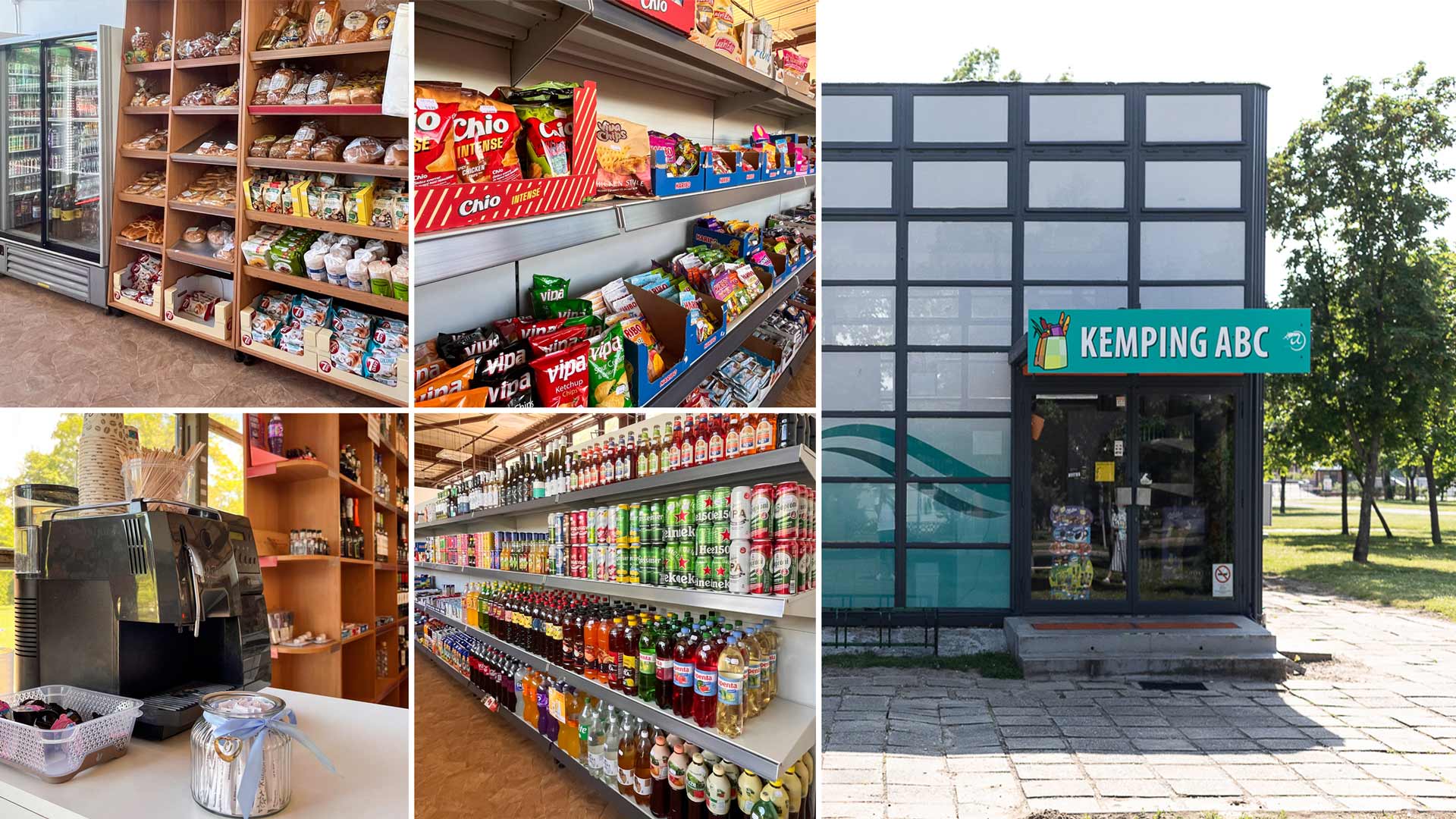 Whether you've left an important piece of camping gear at home or just looking for a snack, you can save yourself the time and effort needed for a long shopping trip, trying to hunt down what you need across Siófok. Just pop into the campsite grocery store and you can pick up whatever you are looking for.
At Aranypart Camping, it's all about your comfort. The same applies when it comes to food and drink. Visit us and enjoy our range of fantastic services, a restaurant and great bars. Complement your waterside adventures with great food and cool drinks while on holiday.