The Animacik crew has had a staple presence at Aranypart Camping for many years. Their activities are very popular with families, and they make family holidays truly unforgettable. We have asked this crew of enthusiastic animators to tell us about what they do and what the secret of the success of their activities is. Meet the Animacik crew!
Who are the Animacik crew? Who are your animators?
The Animacik Crew is a team of enthusiastic and energetic animators who have a passion for entertainment and putting a smile on guests' faces. They make the holiday a memorable experience to every member of the family. Parents can rest assured that their children are safe with each member of the crew, and the young holiday-makers will tell stories about their holiday to their friends for a long time to come.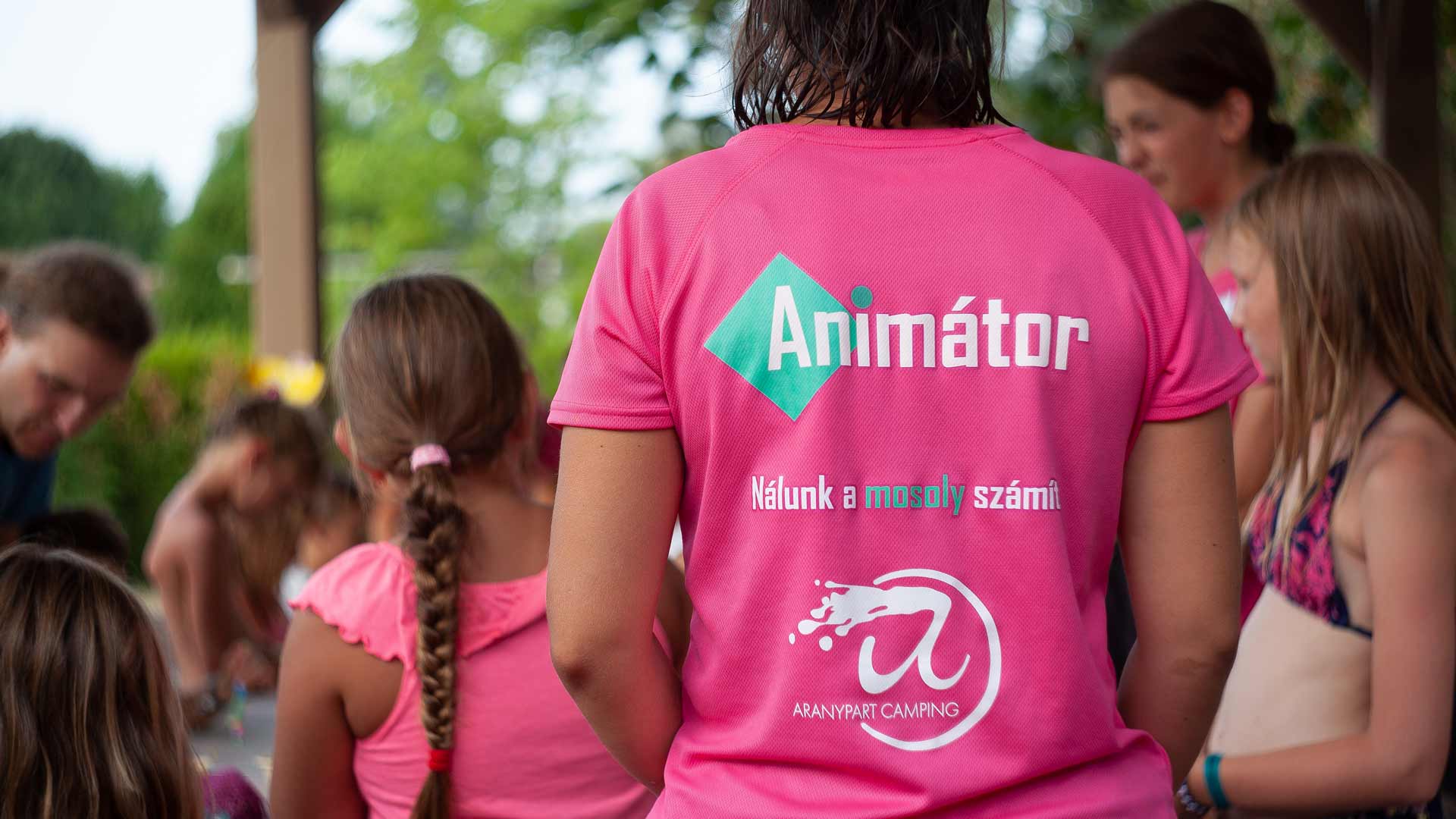 How do you design your children's programmes?
We set out each year to ensure our animators can deliver a varied and exciting programme of activities to campsite visitors over the summer. We build on our years of experience gained in hotels and campsites to bring the most popular choices to all who come to Siófok and stay at Aranypart Camping. We've been refining the programme and add new games that fit the atmosphere of the campsite each year. For example, morning group exercise classes and a family show that follows the children's disco in the evening, were introduced in response to popular demand.
We have also launched an Animacik suggestion box to help us keep improving our range of activities. The box is used at each craft event and disco activity. We ask guests to share their thoughts. They tell us what they enjoy about our animation activities and what their favourite bits are, but they also give suggestions on things to improve. We are immensely proud of the positive feedback our animators get and of the fact that families know them by name and look forward to meeting them again the next year.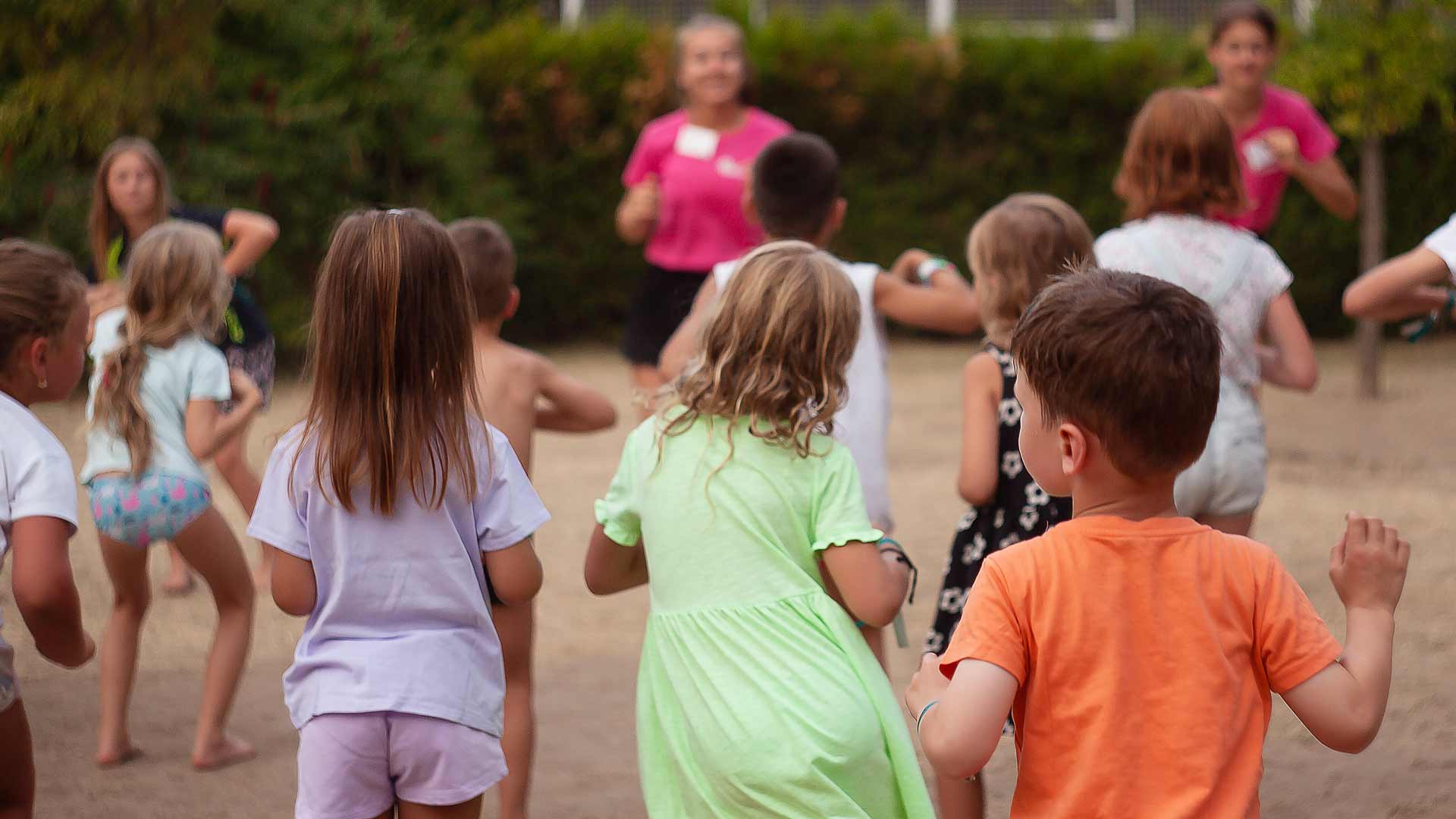 What do you offer the children?
Our children-only craft activities are very popular. They include glitter tattoos, balloon folding, water balloon fights and many exciting and fun competitions. In the summer, when the days are at their hottest, our water-based games and contests are especially popular.
How do animators communicate with children from abroad?
Each animator speaks at least one foreign language, so they can engage children from abroad with ease. The timetable of weekly activities is also available in English and German. Copies are available at the reception, by the sanitary block or near the animation stage.
In addition, our crew walk around at the start of each activity and use a loudspeaker to create a party atmosphere, let guests know what is on next, and invite all children to join, not just in Hungarian but also in English and German.
You also have activities for families. What are these like?
Our goal with each activity is to attract the whole family, not just children. We believe that a family that plays together, stays together, so we organise sports competitions for families every day, including foosball and table tennis tournaments, family Olympics and fun agility races.
In the evening, once our very popular Mini Disco ends, we invite adults to join Bingo, Activity or the Newlywed Game every week.
Do parents enjoy joining in?
Absolutely! We are glad to see an increasing number join our activities each year. Those who like active relaxation can join the exercise class by the pool or play outdoors sports with us.
What do you have on offer?
Morning exercise class, yoga, aerobic, Zumba, exercises for couples
Crafts, including building an aquarium, painting bed sheets and making a pirate costume
Water-based games such as Ball Wars, Target Practice and Mermaid School
Aqua aerobics
Sports competitions: team bicycle race, Numbers War and table tennis tournament
Dinnertime activities: board games, party, bead ironing and making friendship bracelets
Mini Disco
Evening shows: Girls v Boys, Campsite's Got Talent
When and where do these activities take place?
Animation activities take place from 10 am to 1 pm, and from 5 pm to 9 pm. Most of the time, you can find us in the grassy area to the left of the main entrance of the campsite, by the stage. Water-based activities happen in the pool, and fun team games are held in the aisle next to the pool.
For which age group are the activities designed?
Our activities are not age-rated. We welcome both children and adults, everyone regardless of age!
Do the animators also provide babysitting? Or do children need to be supervised while taking part in the activities?
Babysitting and animation are two different things. Animators create a great atmosphere, and encourage participants to throw themselves into the activity. That is to say, they entertain, rather than supervise. We do not offer a babysitting service, but children over 4 can take part in our activities without the need for parental supervision.
Which of your activities are the most popular?
Our most popular activities include craft sessions, glitter tattooing, balloon folding, water-based games, treasure hunts and of course the unmissable evening Mini Disco.
What motivates your animators?
They find joy in making children satisfied and happy. Their reward is seeing the children join in activity after activity each day with a sparkle in their eyes, as they can hardly wait for the next fun game to begin. This is the only way to do this job: with heart and soul, and with great enthusiasm.