At one time or another, everyone has considered ways to reduce their spending while on holiday. Especially when travelling with your whole family, you have to give some thought to what you can afford and how much you spend. Sadly, hospitality prices (both for accommodation and eating out) have increased by around 15 to 30% over the past year, so it is definitely worth opting for a type of accommodation that helps you save.
A tent is the cheapest option
Many think they are too old to sleep in a tent, and others may consider it uncomfortable, but staying in a tent is actually great fun if you pick one that is right for you. If you are serious about camping, it is well worth buying a more expensive model because it will continue to serve you for many years to come.
With hotel prices at their current levels, even a high-tech tent will pay for itself in a single summer season. When it comes to price, nothing beats a tent pitch. The overall cost will depend on the date and the location, of course, but you will be hard pressed to find anywhere else to stay at this price level.
Camping is a way of life. If you are flexible and open to new experiences, and if you enjoy nature, do not hesitate to embark on a tent holiday. At any rate, you will spend most of your time away from your bed, on the beach, in the woods or on an excursion, or maybe sitting by the campfire, so the tent is really only for sleeping in and to store your luggage. So why pay more just to have a place to retire to at night?
Camping in back in vogue
Camping is no longer only for those with a nostalgia for the summer camps of their childhoods. An increasing number swear by it as the best way to relax. Campsites are making every effort to satisfy even the most discerning customers, offering a range of high-quality extra services, and well-kept grounds. Camping is definitely trendy, maybe even fancy right now. All you need to make the most of it is the right outdoors equipment.
Luxury tents are also available
Some inflatable models can cost between HUF 200,000 and HUF 300,000, but they can be set up in about 10 minutes with the right pump; all you have to do is fix your tent to the ground.
Inflatable tents are very sturdy, can resist even strong winds, and provide spacious accommodation. When it rains, the awning can provide shelter, and with a simple set of patio furniture you can be even more comfortable than you would be at home.
In summary, these tents can be ideal for those who do not want to spend too much time setting up their tent and packing it away, but also do not want to compromise on comfort and room, especially if they are camping as a family.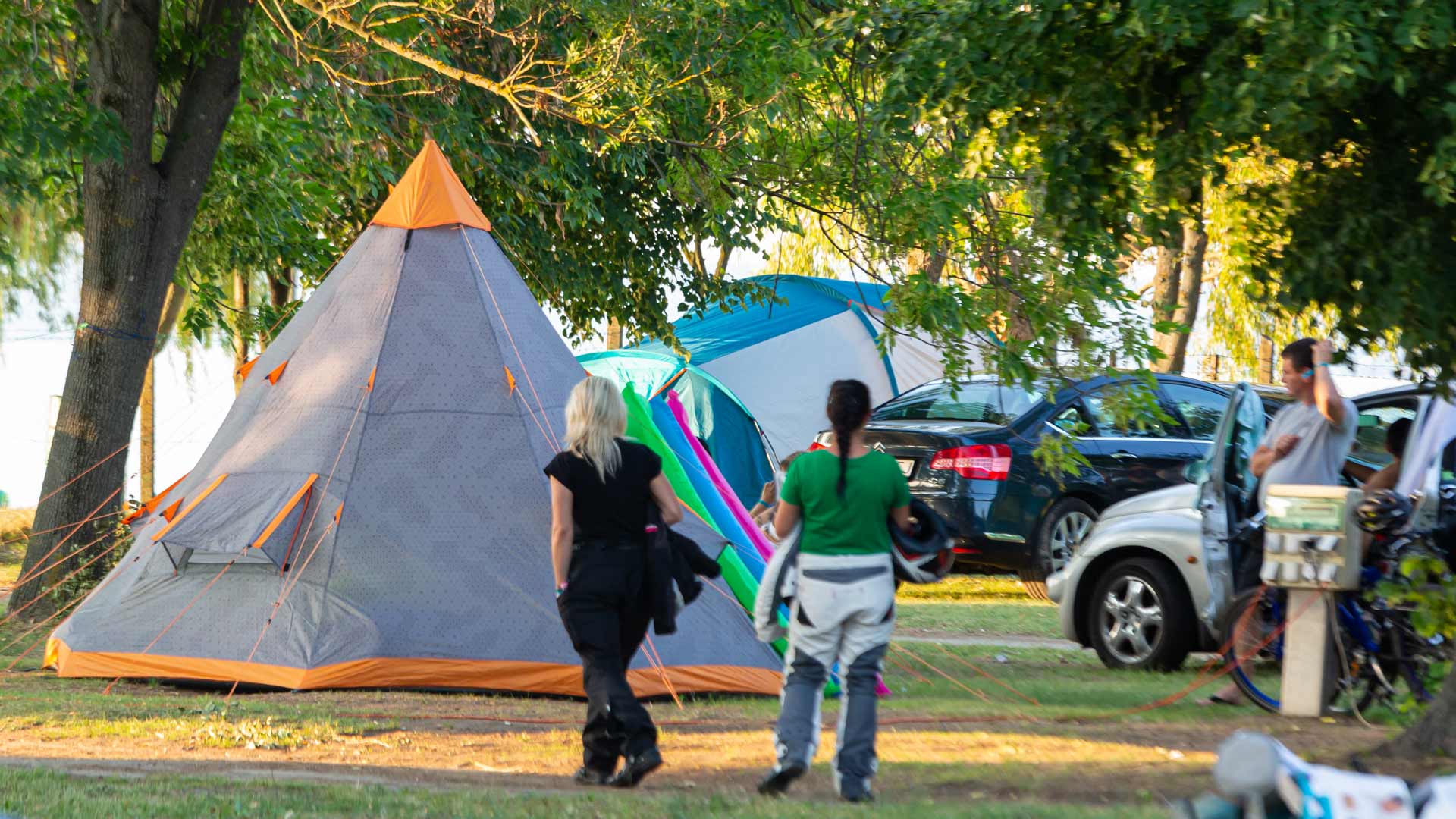 Aranypart Camping – Siófok
Environmentally friendly cotton
Cotton is a natural, breathable fabric, which can last for years with the right care. When it is used to make tents, it provides excellent airflow in dry weather, and water resistance when it rains. Your portable accommodation has to go through the so-called weathering process before being used.
Brand new tents are not entirely waterproof, so they need to be exposed to rain for at least 45 minutes, then dried completely. This causes the fabric around the stitches to contract. As a result, when they get wet the next time, the fibres swell up, rendering the fabric waterproof. You may need to repeat this process in order to achieve a permanent effect.
Reserve a tent pitch online
Aranypart Camping offers online booking for tent pitches, so you can make a reservation well in advance to avoid disappointment on arrival. This way, nothing will get in the way of your plans.
How much can you save by renting a tent pitch?
A double room in a hotel or an apartment for two people will typically cost in the region of HUF 20,000 per night. You can book A tent pitch will set you back by a fraction of that: between HUF 2,100 and HUF 3,250 per person.
If you take a family holiday, the number of people you have to budget for can also make a substantial difference. Renting a tent pitch already includes the cost of two people, so you only have to top that up for any additional holiday-makers.
A quick calculation shows that a family of four can save up to HUF 100,000 over the course of a week-long holiday.
Click here for our tent pitch price list »