The off-season is about to start
If you feel like you need a proper break or even just a quick trip somewhere nice, don't hesitate. In the long run, running yourself into the ground can have all sorts of negative consequences. Spring is for enjoying. The awakening of nature and the increasingly sunny weather will help maintain your balance.  Aranypart Camping is located in Siófok, and will open its gates to visitors on 21 April, so make the most of this opportunity to book a trip to Lake Balaton. If you haven't tried camping in the spring yet, it may sound like a surprising idea because most people associate camping holidays with hot summer evenings. But off-season camping can provide an unmatched holiday experience. On top of all that, you can stay in accommodation that is not just comfortable but also cheap.
We all need a bit of R&R
Neglecting to take the time to rest and recuperate can cause tiredness and low mood, so it is best to take care to avoid that. All it takes is a couple breaks and trips, whether short or long. The summer is some time off yet, but that's no reason to run yourself into the ground with work. Your reserves will typically be depleted by this time of year, so it's little surprise if you feel like skipping a few months to finally immerse yourself in that summer feeling. Thankfully, there is a solution because the spring offers a whole range of options for relaxation. It is also one of the best times of the year to visit Lake Balaton.
Spring break at the campsite
It is a well-known fact that today's campsites far exceed the standards you may remember from your childhood. Unforgettable memories that will stay with you for a lifetime are just as easy to make, but now you can also expect quality services and a relaxing break when you go camping. What's more, camping continues to be one of the cheapest forms of accommodation. Aranypart Camping is a campsite in this modern sense. It has a range of accommodation types on offer so that everyone can find the one that best suits their preferences, and most of the high-quality services offered here are available even before peak season starts. Thanks to all its attractive features and comfort, the campsite is actually more like a holiday village.
Activities and an authentic camping experience
If you're wondering what a trip to Lake Balaton in the spring is like, consider all the benefits that come with booking your holiday for before the peak season starts. You will miss the crowds that characterise summertime, so your break will be a lot calmer and more relaxing. The weather is just perfect for all sorts of outdoors activities. The sun is already shining but temperatures are bearable, which makes the idea of doing something in the fresh air a lot more attractive.
Active leisure
If you like exploring and active relaxation is your thing, then you should definitely consider hopping in the saddle of a bike for a trip. You can hire bicycles at the campsite, so all you have to do is pick one of the countless exciting attractions in Siófok or a local day trip destination.
You won't even have to leave the campsite to enjoy some active leisure, though, because guests can take their pick from a range of sports facilities, including volley ball, table tennis, mini golf and foosball.
A bite to eat
It is easy to get hold of something delicious to eat, too. The campsite has a restaurant, a snack bar and a grocery store right on your doorstep, so you will definitely find what you're looking for. Or just use a fire pit to cook or roast something, and enjoy the beautiful flames of the campfire. Even putting the food aside, it is worth trying your hand at outdoor cooking for the atmosphere alone.
The wonderful Lake Balaton
Last, but definitely not the least, there is Lake Balaton in all its beauty. It's at its best in the spring, with just a few white sails dotted around its calm surface. It is the picture of calm brought to life, and is guaranteed to help you forget all your worries during your break. You can drink in all that beauty standing on the beach or even set sail and embark on a boat trip right here in Siófok.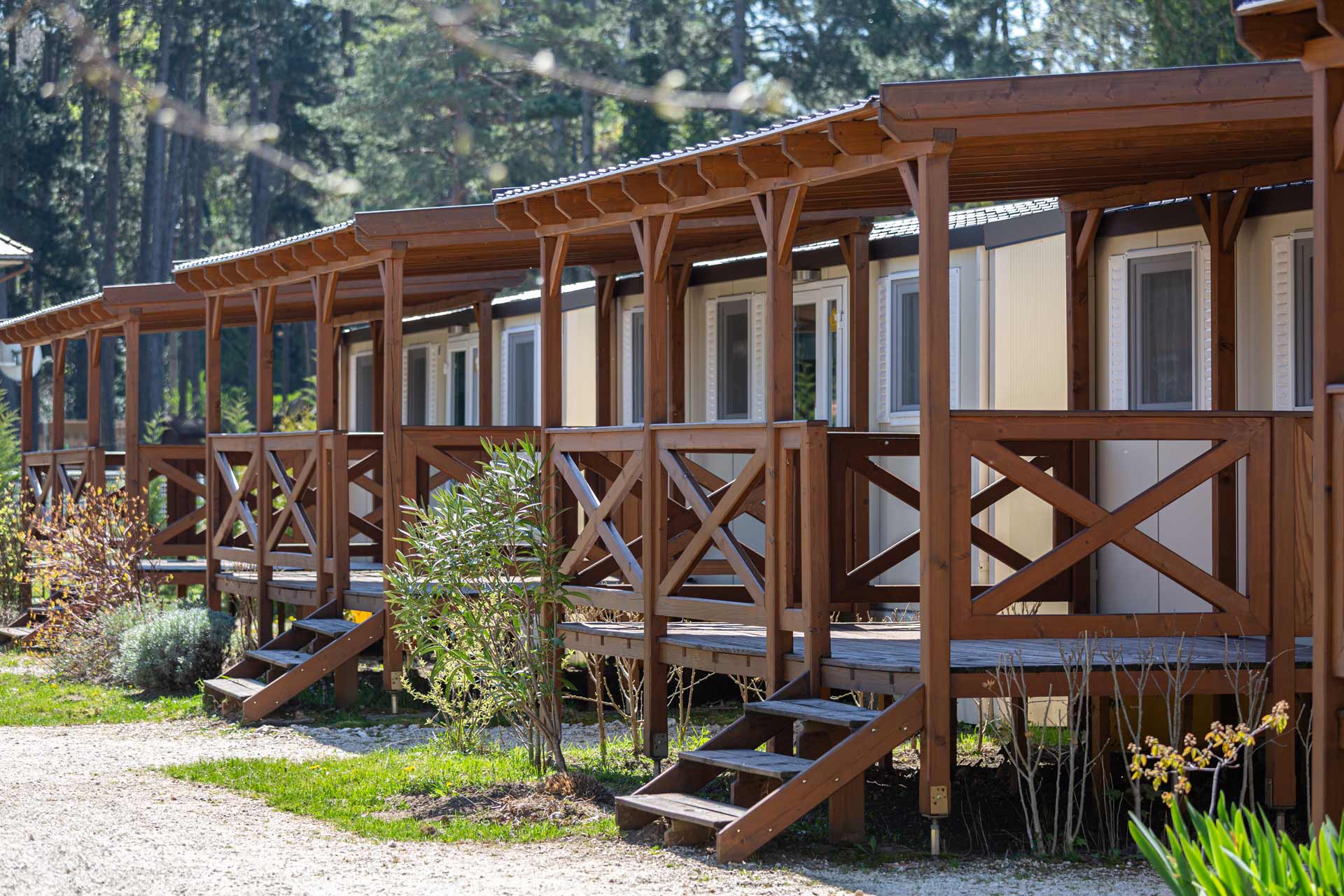 The best accommodation types for comfort
If you want to see Lake Balaton before the peak season starts, and are looking for cheap but comfortable accommodation, you will definitely find something that suits your requirements in the Aranypart Camping range. You're best off picking one of our heated mobile houses or cabins but if you're feeling like a true classic, nothing beats arriving at the campsite in your very own caravan (or just rent one).
Our accommodation is cosy, practical and attractive, and comes with well-equipped kitchens, corner sets, comfortable beds and modern furniture.
A roomy patio
Each mobile house has a patio so all you have to do is step out of your front door to enjoy the fresh air, have a long chat that reminds you of pleasant early summer days or settle down with a good book.
It is worth reserving your accommodation as soon as possible because these offers are extremely popular in the off-season. Avoid disappointment and book a pleasant long weekend or a quick extra break now. You can calculate the price and you're your accommodation online, and pay for it using your debit or credit card.