Over 200 kms of cycle paths, wonderful views and unforgettable experiences. The best trips are those where the whole family can enjoy what nature has to offer and creating new memories, with a healthy dose of relaxation thrown into the mix, as well. All of this is guaranteed if you visit Lake Balaton: there is always plenty to see from the spring to the autumn, with plenty of opportunities for exercise, and lots for children to enjoy.
Why choose Lake Balaton?
Let's start by considering why Lake Balaton is the ideal destination for a bike trip. Every cyclist is different, but this is a very good route for those travelling with children. Little changes in elevation mean the 203 kms of cycle paths around Lake Balaton can be covered without straining yourself too much, which is a bonus. Because of its length, even pros can enjoy it, and it is the ideal choice if you would like to interrupt your tour periodically to go on a short hike in this wonderful landscape.
How to find your way on two wheels?
Lake Balaton is still the most tourist destination in Hungary, and the locals offer a whole array of information to help visitors find their way. Nature trails and cycle routes around Lake Balaton are all signposted, along with accommodation providers and events. Cyclists have a wealth information only a click away on the internet. For example, funiq.hu lists elevation differences, distances and detailed route descriptions.
Cycle routes and descriptions »
Balatonbike.hu is another very useful website, which provides detailed maps of the Lake Balaton cycle path, along with recommendations about trips. These trip plans contain distances and elevation differences as well as points of interest worth checking out on the way. All of this information is richly illustrated, of course.
Where to stay?
There are two considerations to take into account to ensure biking, Lake Balaton and the family all get due attention. Let's take children first: in order to make sure they have fun, too, pick a place that offers more than just cycling. It is best if you can also rent a bike at your destination, as they can be quite difficult to transport, especially when you have to carry more than bicycle.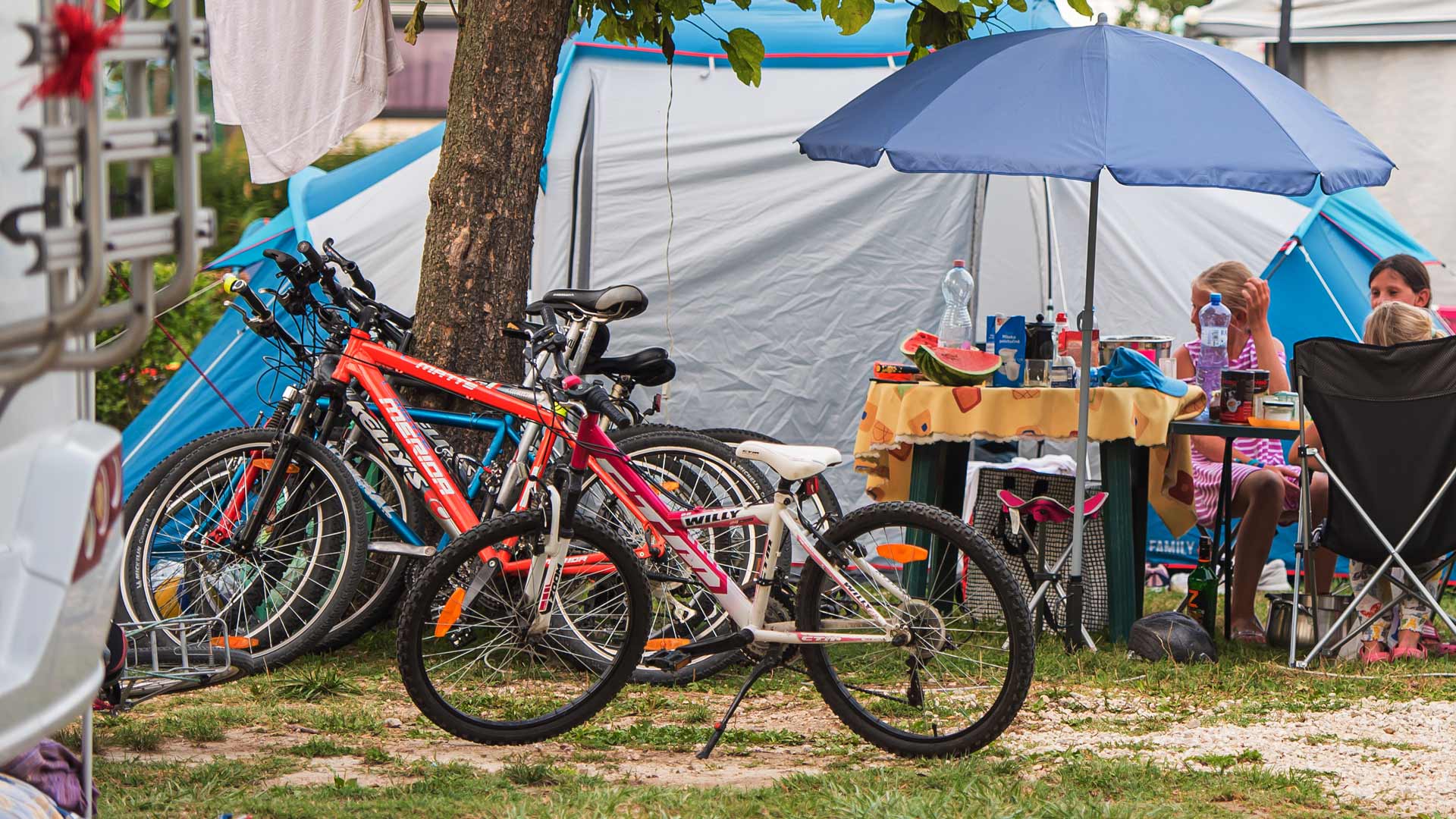 Siófok is the perfect choice
You can access Siófok by bike on the cycle path, and it is very popular with families because of the range of options it offers. As an added bonus, stay at a campsite so that the kids can be outdoors as much as possible, building a fire, playing football and more at Aranypart Camping. We also offer a wholly revamped playground, several food kiosks, bars, and sporting facilities. Children will love minigolf, foosball, and the range of events organised free of charge by the Animacik team at the campsite.
Zamárdi, the heart of Lake Balaton
Zamárdi is also on the Lake Balaton cycle path. Campsites are the ideal type of accommodation for visitors arriving by bike. Mirabella Camping is right on the beach, so you can have a splash whenever you feel like it. This makes life a whole lot easier, so make sure you bring water toys, air mattresses and other beach equipment to make the most of your time. Mirabella Camping has its own private beach, and Aranypart Camping offers access to a span of free public beach that is several kilometres in length.
Recommended routes on the cycle path
Siófok–Zamárdi
The cycle path between Siófok and Zamárdi spans around 10 kms. The route is relatively straight, and can be covered in about 1 hour. Take a quick detour to see Kőhegy Lookout Tower in Zamárdi, or cycle as far as Balatonföldvár to visit the Museum of Naval History and Visitor Centre. This is a short trip that even children will be able to enjoy.
Siófok–Szántód
Szántód lies 16 kms away from Siófok. You can turn this into a day trip, as it is from here that ferries across the lake to Tihany depart. During the summer season, the ferries leave around every 40 minutes. Do not miss Tihany if you are in the vicinity, because it is one of the most exciting and beautiful towns around Lake Balaton.
You can travel a full circle around Lake Balaton on the cycle path, so you can also plan where you are going to stay each night as you travel. You can book your accommodation with us even if you are staying in a tent, which is a major advantage during the peak season, when places typically fill up very quickly.
Book accommodation at Aranypart Camping »