A holiday village that brings people together
A modern campsite is more than just accommodation. It is more like a holiday village, and offers far more than you might think at first. To many, camping brings back fond memories of special childhood moments, school trips and holidays with friends and family. A camping holiday promises a lot of unforgettable memories, from the fun of pitching the tent to outdoor cooking, splashing around in the water and playing all sorts of games. It is all about relaxation and the joy of being together.
But today, camping offers even more than that. Aranypart Camping places great emphasis on its convenience services, so these holidays are just as much about comfort as they are about adventure. On the other hand, this modern and comfortable camping experience also has the potential to build a real team out of the holidaymakers, be they families, groups of friends or even school classes. It is this combination of comfort and team building that makes a modern campsite a true holiday village.
Choosing a holiday village may just be the best option to make the most of this group activity. What makes accommodation suitable for a group holiday? Read on for some important considerations.
Excellent location
Aranypart Camping is well deserving of the name of holiday village because it is certainly big enough to host even large groups. It is situated in Siófok, one of the busiest towns around Lake Balaton. The location is ideal for a group holiday, whether it's a workplace team building holiday, a school trip or a training course. Such trips usually involve more than just scheduled activities, and attendees often have the opportunity to engage in some leisure activities. Picking the right location can help ensure everyone has a good time, even if you are travelling as part of a large group. Siófok has a range of options for scheduled activities as well as leisurely exploration, whether you feel like taking a stroll in town or by the beach of Lake Balaton.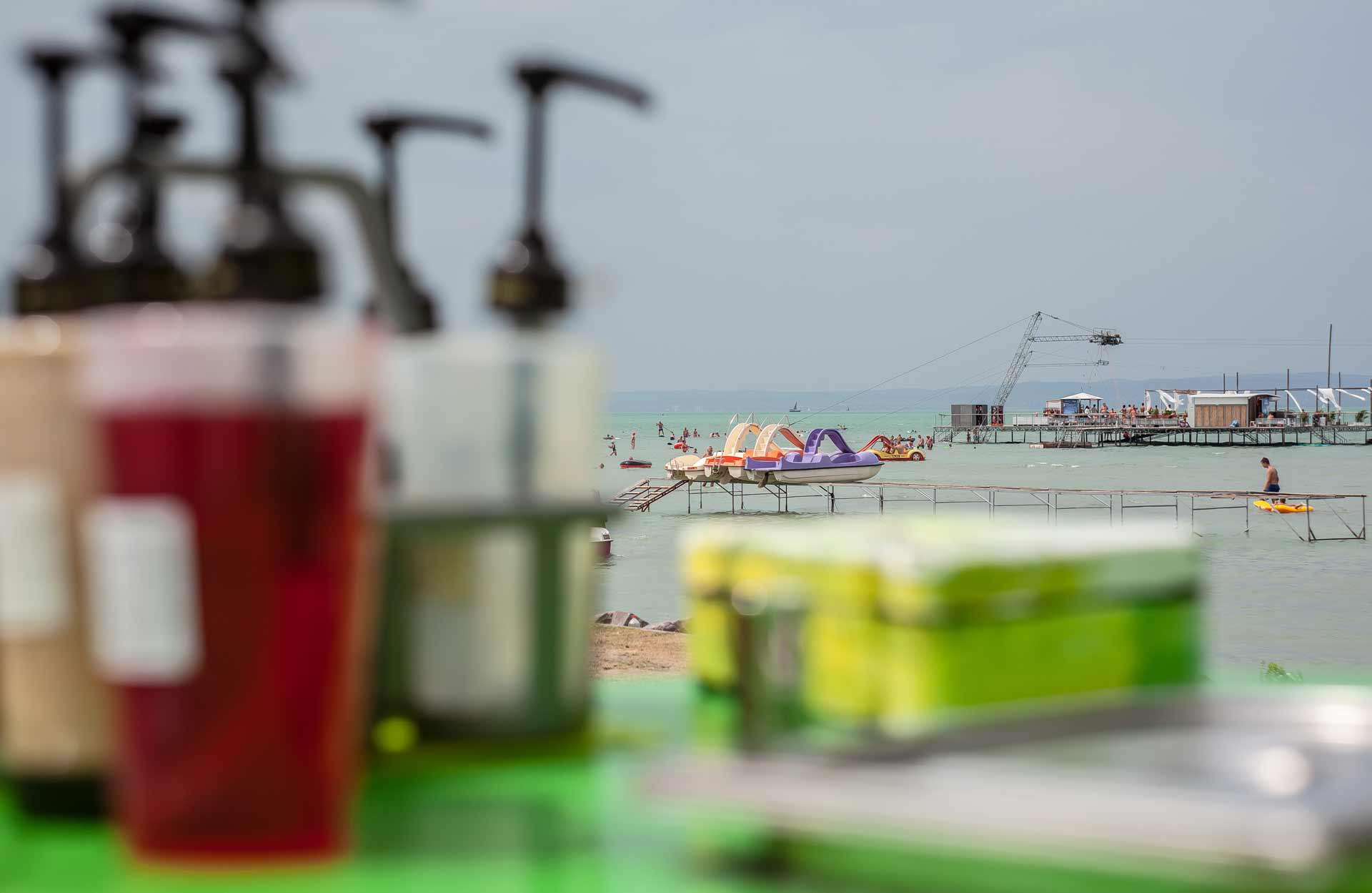 The campsite as a community space
Whether you choose to stay in a tent, in a mobile house or in a cabin, large groups arriving at the campsite are broken up into smaller units. One of the benefits of this arrangement is that holiday-makers can maintain a sense of privacy, and they can build even tighter bonds with a smaller circle of fellow travellers, while staying together in the holiday village. Such experiences can help establish really strong connections, not just during the school years but also as an adult. Once all holiday-makers are put up in their accommodation units, they can set out to create a personalised atmosphere in their temporary home, regardless of which type of accommodation they have chosen.
The campsite also has lots of shaded areas that are ideal for large groups to play games in. With a dash of creativity, any team leader or class tutor can introduce team building activities and group rituals to jazz up the days the holiday-makers spend at the campsite.
The campsite as an informal learning space
Whether they are embarking on a school trip or some other trip as a group, both organisers and participants often want to go beyond a simple holiday, and to have the opportunity for personal development and engage in some fun and entertaining learning. Camping can certainly tick this box. It offers an opportunity to acquire a range of practical skills without even noticing it. Just think about the fun moments of setting up the tent, or drawing up the campsite rules together. All these activities contribute to honing skills that are essential for a successful life. Camping lets holiday-makers demonstrate their ability to cooperate and creativity as well as the ability to relax, reduce stress and enjoy a laugh together.
Rest and relaxation
No holiday village is complete without convenience services of the highest quality. Aranypart Camping offers everything you may need for an unforgettable holiday experience. You don't even have to leave the campsite to eat out, as it has an on-site restaurant, snack bar and grocery store. You won't have to worry about washing your clothes, either, thanks to the laundry service available on the campsite. Communal areas are cleaned on a regular basis, and are spotless. On top of all that, Aranypart Camping offers a whole host of leisure activities, from an experience pool to a volley ball court, to table tennis, foosball and mini gold. This is what makes Aranypart Camping a real holiday village. And to top it all off, you have Lake Balaton and the beach. There is definitely no other place that can offer this level of rest and relaxation.
Book your accommodation or make an inquiry
If you are organising a trip for a group, you should reserve accommodation as soon as possible, even if you haven't worked out every detail of the timetable just yet. When you are trying to book accommodation for a number of people at the same time, it is easy to miss out on the best opportunities unless you secure your place by making a booking online. It is important to note that your online booking is only considered completed when you have paid the deposit. You can use any credit or debit card to make the payment.
A quote can come in really handy during the planning phase, when you are trying to get a sense of the overall cost of the trip for the whole group. You can make an inquiry online, and get a personalised official quote in your inbox within 24 hours. All you have to do then is discuss it, make the booking and start planning for the adventure.