Feeling like a good hamburger?
Aranypart Camping is more than a simple campsite where you can pitch your tent. It offers a complete holiday experience, with a range of accommodation options, entertaining games, sports facilities and options to relax, as well as culinary treats. In this article, we are going to introduce the bistro, where the hamburger is the main attraction, but there is also a wide array of high-quality street food on the menu.
Busy but cosy breakfast restaurant and burger bistro
You will find different delicious options here at each time of the day: in the morning, a fresh cup of coffee or tea and three different breakfast menus, with the hamburger to follow for lunch or dinner. If you are looking for a light snack during your day at the beach, pick one of the fresh salads and light platters. In addition to the permanent items on the menu, check out the regularly updated "Our Chef's Dream" if you want to go on a culinary adventure by Lake Balaton.
Visit the Egyálom Terasz Facebook page for the current promotions, and follow them to receive the latest updates.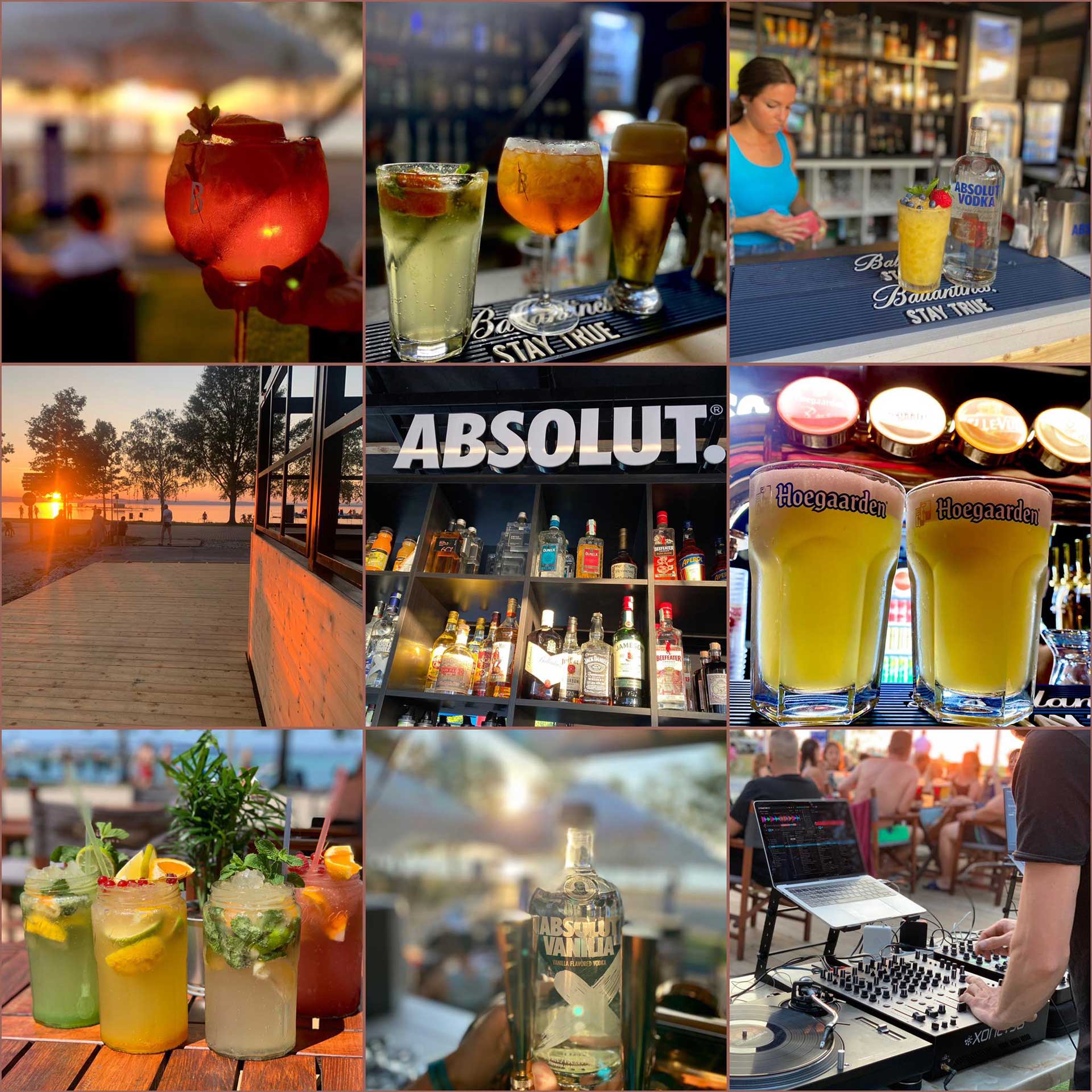 Egyálom Burger is a favourite among customers, and an absolute whirlwind of flavour: a fresh, toasted bun hugging a meat patty with cheese melted on top and accompanied by bacon, coleslaw, onion rings and an onion chutney.
Warning: highly addictive!
Even children will be won over
The kids' menu was designed on the basis of the recommendations of a real expert: a six-year-old child. The list of favourites included frankfurters, cheese and French fries, so the chefs at Egyálom listened to the expert, and filled the menu with kids' favourites in various combinations alongside simplified versions of the burger dishes and cereal for breakfast. Those who have earned dessert can even have an ice cream to top it all off. Your children will definitely not leave Egyálom Corner with an empty stomach.
A place with pleasant ambience
Egyálom means more than just great hamburgers…
The owners are committed to providing guests with nothing but the best. In their own words:
"Egyálom CORNER is docking here for the first time this year. We started out in Siófok, providing authentic street food. We love good service, high quality ingredients and delicious food. And we are committed to offering only what we ourselves would be happy to eat. Since our soft launch in the spring, early customers have been testing our summer offering so that we can put only the best burgers on the tables at Corner."
For an authentic lounge atmosphere, visit Egyálom TERASZ
The Egyálom offer goes beyond the burger bistro, and there is also a lakeside bar to visit. Egyálom TERASZ is not just a café and bar but also a place to recharge.
The terrace is open to guests every day from 11am
Late risers can start the day with a nice cup of coffee. The menu includes a wide range of freshly ground coffees and coffee-based cocktails, so no one will have to wander around the beach sleepy.
Visit the terrace for a cold drink during the day or a selection of Lake Balaton wines and fruit cocktails to relax with in the evening. Who can resist a Malfy gin fizz, a piña colada or some sex on the beach?
A party atmosphere every weekend
No weekend would be complete without music and parties, and lounge DJ sets help guests enjoy a relaxing sunset on Fridays and Saturdays. Visit the Egyálom Terasz Facebook for the latest on upcoming events, parties and DJs.
Click here to visit their Facebook page »
The Egyálom TERASZ motto:
You. Just. Relax.
Authentic Lake Balaton atmosphere, pleasant surroundings and excellent service: the dream of every customer come true right here. Egyálom TERASZ also offers a range of promotions and events. If you spend over HUF 10,000 at Egyálom CORNER, you get a voucher you can use at the TERASZ for a 10% discount on your next visit, and vice versa.
HUF 500 voucher for breakfast on check-in
But wait, there is more! When checking in at the Aranypart Camping reception, you will receive a HUF 500 voucher per booking that you can use towards your breakfast. The breakfast voucher can only be used for food, and only one voucher can be user per visit.
5* review from Restaurant Guru »
Aranypart Camping has a wide selection of culinary experiences, but Egyálom CORNER and TERASZ alone are worth visiting for because of the high quality they offer. You will find a number of restaurants, snack bars and bars at the campsite, each up to today's highest standards and satisfying even the most discerning guests. Come and experience an authentic Lake Balaton campsite holiday.