The right accommodation is the key to the perfect holiday
As the camping season starts, tourists flock to Lake Balaton and fill the local holiday homes, creating a truly summery atmosphere. We all want to relax during our long-awaited break, and the key to achieving that is to pick accommodation that suits your requirements and preferences.
Your whole holiday can be defined by the place where you lay your head at the end of the day. Nothing ruins the experience more quickly than being surrounded by old, rickety furniture or a less-than-clean environment. Of course, a great holiday takes more than a neat and tidy environment, well-equipped and well-kept rooms: you also need excellent services to be available near your accommodation.
We at Aranypart Camping take great care to ensure your comfort and that you can enjoy all the local opportunities for some active relaxation.
If you are looking for a great holiday by Lake Balaton, look no further than the holiday homes at Aranypart Camping in Siófok. Here, you will find everything you may need during your holiday. The town is always buzzing, with a great atmosphere and lots of attractions and  events to see and do. At the campsite, you have leisure and sport activities at your fingertips, along with a range of comfort services. All you have to do is select the type of accommodation that best suits your requirements.
If you enjoy adventures, why not stay in a tent or a caravan? There are also two other types of comfortable accommodation at the campsite, namely mobile houses and cottages.
When to opt for a mobile house or cottage?
During the summer, many prefer a classic tent holiday. When the weather is scorching hot, it is nice to fall asleep counting the stars in the fresh air, and this is also a great way to get the full camping experience. But Lake Balaton has plenty to offer during the off-season, too. Many actually think this is the best time to explore all its hidden treasures. Over the spring, many holiday homes are still empty, you can avoid the crowds and enjoy the perfect weather for hiking or for participating in activities that are less fun in the sweltering heat.
Which holiday home type is the one for me?
Comfort even during the off-season
The weather is nice and warm in the spring. It feels good to be outside, and it is the perfect time to go on boat trips, bicycle tours and hikes.  Some holiday-makers worry, however, that it may get a bit chilly at night or there may be a sudden change in weather, ruining the experience. Truth be told, early mornings can be a bit fresh in the spring, so your best bet may be to pick one of our mobile houses or cottages. These holiday homes are fitted with air-conditioning and are also heated.
There are a couple of important things to consider when choosing the perfect holiday home. You should think through your requirements as well as the number and ages of the holiday-makers. Remember, your four-legged friends are also welcome to stay with you in our mobile houses and cottages.
Mobile houses
Each mobile house has a good ambiance, a well-kept interior, a well-equipped kitchen and attractive, modern finish. There are two types of mobile house, each with a similar capacity to accommodate guests.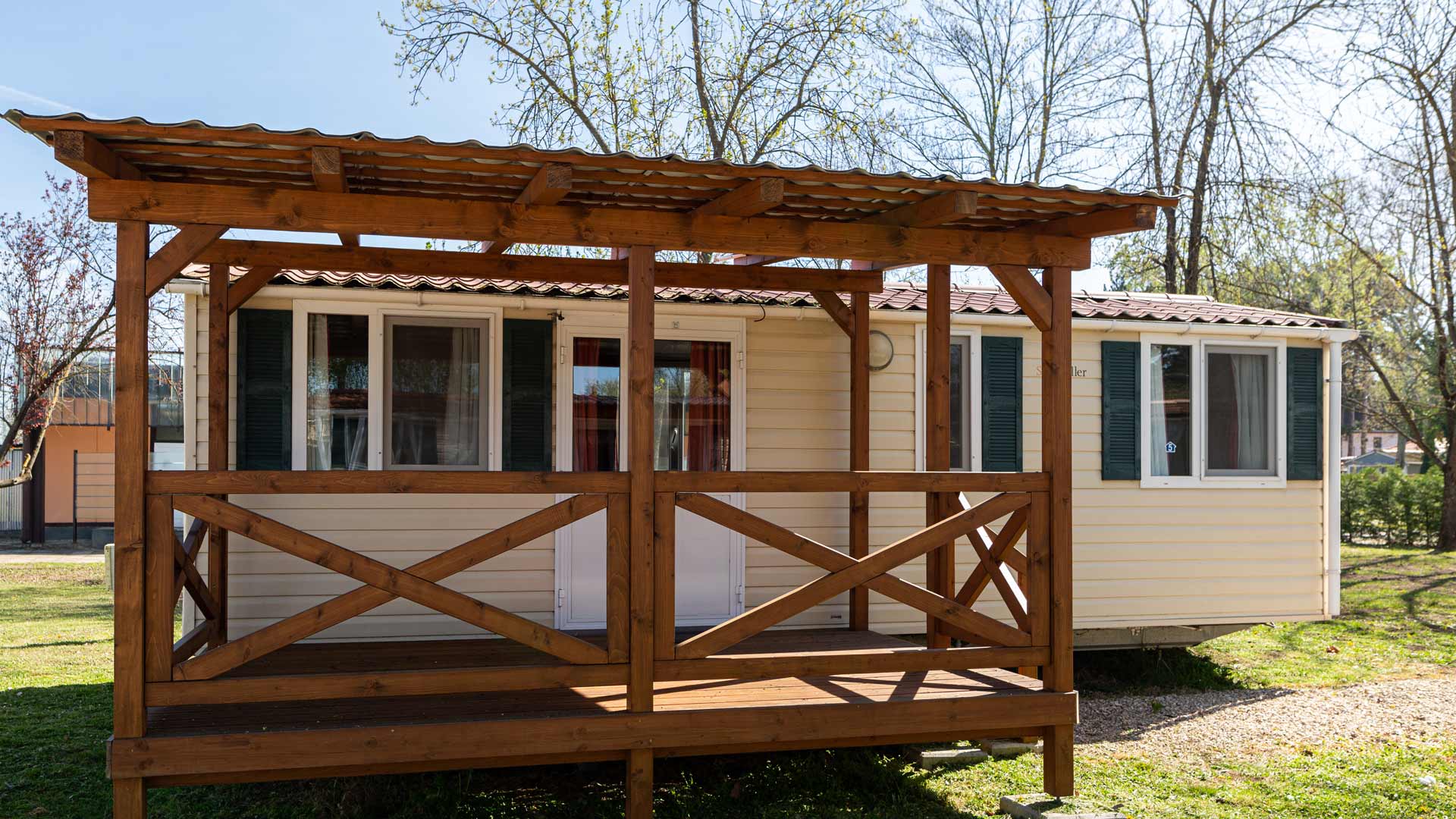 Eurocomfort mobile house
These houses have a spacious patio, big enough even for larger groups. They are also the larger of the two types, with a base area of 32 square metres, which can comfortably accommodate a group of five. Their maximum capacity is 6 people (up to 4 adults and 2 children) or 5 people, if all of them are adults.
Sun Cool mobile house
This type of holiday home also as a pleasant patio. It is slightly smaller, at 24 square metres, so ideally suited for a cosier holiday. These mobile houses each have a living room and two bedrooms. Like above, they can accommodate up to 6 people (4 adults + 2 children or 5 adults).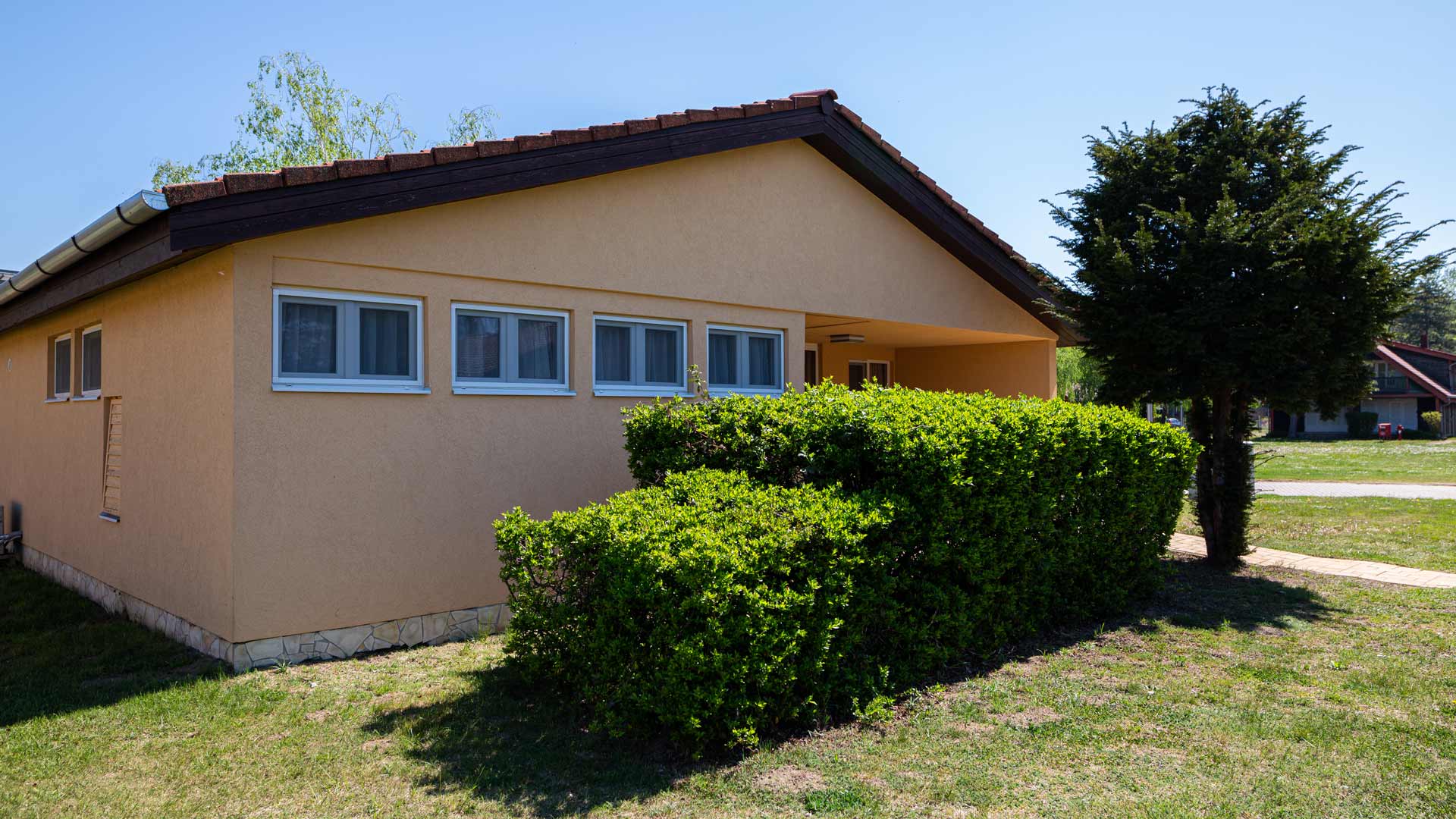 Cottages
Thanks to their typically larger size, cottages can comfortably accommodate large groups. Carmen cottages have a base area of 42 square metres. They comprise a living room and two bedrooms and a fully-equipped kitchen. They each have a spacious and comfortable interior.
Carmen cottages
Carmen Plus cottage can accommodate 6 people (4 adults + 2 children or 5 adults)
Carmen A cottage can accommodate 6 people (4 adults + 2 children or 5 adults)
Carmen B cottage can accommodate 6 people (4 adults + 2 children or 5 adults)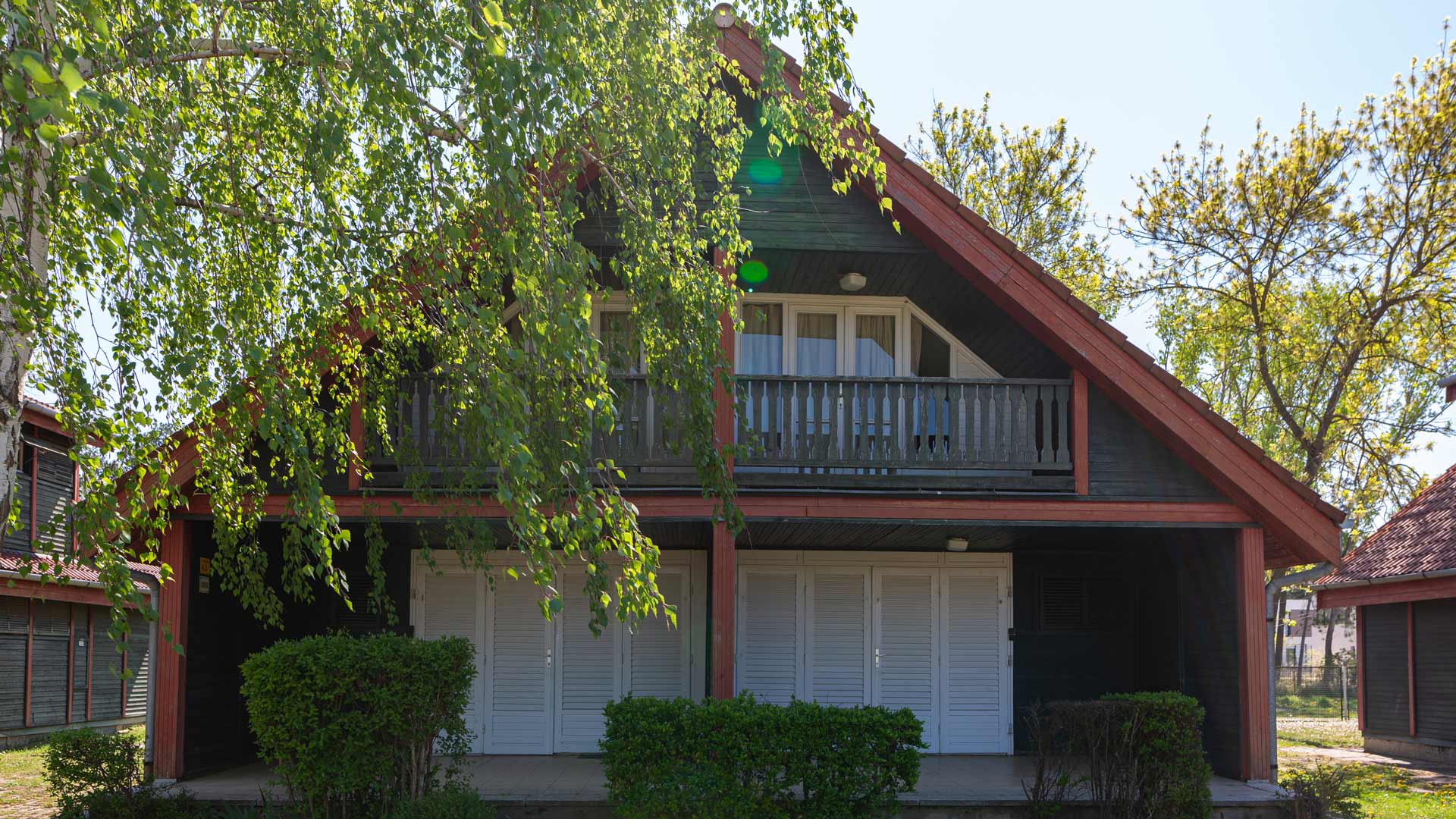 Rosa cottage
Rosa cottage is the largest holiday home available at Aranypart Camping. If you arrive as part of a larger group and would like to stay close to each other, or if you're bringing the whole family, Rosa cottage is the ideal choice. The cottage boasts a well-equipped kitchen and an attractive interior. Thanks to its size, it can accommodate groups of up to 8. The building has a base area of 70 square metres, spread across two floors, and also boasts a partially covered patio.
Book your accommodation
Once you've picked the right type of accommodation for your next trip to Lake Balaton, all you have to do is make an online booking to reserve your long-awaited holiday. It only takes a couple of clicks to get a quote and book your accommodation. You can use your debit or credit card to pay. Both the cottages and the mobile houses are very popular and go quickly, so don't hesitate to book your preferred holiday home to avoid disappointment.